Chicken Sausage Shrimp Gumbo - There's absolutely nothing like it. Today, I'm sharing my super quick and easy gumbo recipe that's also Whole30-Friendly. I know, I know you're probably thinking super quick and easy yeah right. But, I promise, this recipe will not disappoint especially if you're looking to satisfy your gumbo craving during the week or for a special weekend dinner. It's loaded with mostly all the ingredients in a traditional gumbo minus the crab and the roux. Wait, let me finish don't get alarmed. Just allow me to explain. Yes, it's true that a luscious and flavorful roux is the essence to a great gumbo, but the richness and depth of flavor of this gumbo recipe is absolutely delicious. I pinky swear. So, Let me tell you about this easy Chicken Sausage Shrimp Gumbo recipe. Oh, by the way, I do have a great recipe for a more traditional gumbo recipe which I will link down below.
You may have read that I completed my first Whole30 this past Spring. If you haven't, please feel free to read about my journey under 'LifeStyle ' as it was such an awesome experience.
This Chicken Sausage Shrimp Gumbo recipe is definitely inspired by my Whole30 experience. However, before I get into the specific ingredients on how to make this pot of deliciousness. I must mention that this recipe is Whole30-Friendly and not Whole30.
Since my Whole30 experience, I haven't wanted to completely go back to the way I use to eat instead I decided to eat Whole30 about 80% of the time. This has worked for me and makes me feel really good about my body and overall health.
WHAT ARE THE INGREDIENTS IN GUMBO
The ONE ingredient in this recipe that wasn't Whole30 was brown rice flour which I used to make the slurry for thickening the gumbo. I didn't have Arrowroot which is a Whole30 compliant thickener, so I used what I had on hand. If you're on the Whole30, you would just swap out brown rice flour or cornstarch for Arrowroot.
The beauty about this recipe is that it's rich in flavor, uses healthy ingredients, cooks fairly quickly, and uses minimal ingredients. Here, are the ingredients:
Vegetables: Diced white onion, green bell peppers, minced garlic
Protein: Jumbo shrimp, chicken wings, *Paleo organic chicken sausage (see photo on the brand I used). Also, other seafood of your choice such as crab, lobster, and/or scallops
Seasonings: Gumbo file, kosher salt, garlic and herb seasoning, tomato paste
Liquids: Extra virgin olive oil, low sodium chicken broth, water
Thickener (Slurry): Brown rice flour and cold water
As you can see from the ingredient list, there is know reason to feel intimated by the thought of making a delicious pot of comforting gumbo that you and your family will absolutely love.
HOW TO MAKE CHICKEN SAUSAGE SHRIMP GUMBO PALEO OR WHOLE30
Brown chicken drumettes on both sides for 5 to 8 minutes. After browning, remove chicken from skillet and set aside on clean plate
To the skillet, add onions, bell pepper, minced garlic and saute for 30 seconds to 1 minute
Add tomato paste to skillet and continue to saute for an additional 1 minute or so
Deglaze skillet with chicken broth and water
Add gumbo file, kosher salt and additional seasonings of your choice and season to taste
Add browned chicken drumettes and chicken sausage to skillet
Add slurry to thicken liquid
Allow to simmer for 30 to 35 minutes
Add more liquid if necessary and add additional seasoning if necessary
Add shrimp to skillet and continue to simmer for an additional 3 minutes
Brown chicken in batches
Saute veggies
Add tomato paste and continue to saute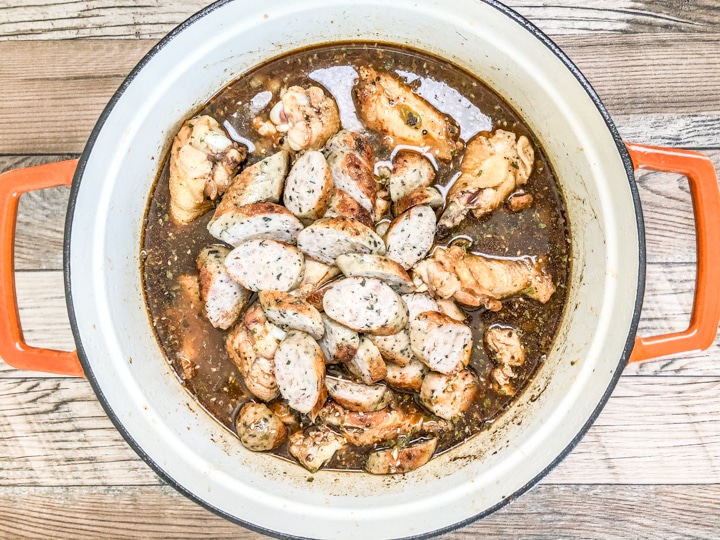 1. Deglaze pan with chicken broth and water
2. Add gumbo file, kosher salt, and other seasonings of choice and season to taste
3. Add chicken drumettes, chicken sausage and slurry to thicken
4. Simmer
Add shrimp
Continue to simmer until desired flavor is reached
I'd love to read your comments in the comment section below. A star rating would also be very much appreciated.
If you love Pinterest or Instagram, I'd love for you to follow me.
More importantly, thank you for visiting my blog.
Chicken Sausage Shrimp Gumbo
Chicken Sausage Shrimp Gumbo is comfort food at it's best. This easy recipe is seasoned to perfection and full of shrimp, chicken, and sausage in a rich and flavorful sauce.

Print Recipe
Pin Recipe
Ingredients
2

tbsp

extra virgin olive oil

1

lb

chicken drumettes

1/4

cup

white onion

diced

1/4

cup

green peppers

diced

2

cloves

garlic

minced

2

tbsp

tomato paste

5

Paleo/Whole30 chicken sausage

sliced

2

lbs

jumbo shrimp

deveined

1

tbsp

gumbo file

or more to taste

3

cups

low sodium chicken broth

2

cups

water

kosher salt

to taste

black pepper

to taste

garlic and herb seasoning

to taste
Instructions
Wash chicken drumettes, clean shrimp (pat dry BOTH with paper towels). Set aside. Dice veggies and slice chicken sausage. Set aside.


To a dutch oven, skillet or pot, add extra virgin olive oil, when hot brown chicken drumettes in batches. DO NOT WORRY ABOUT COOKING THROUGH at this point. Remove browned chicken drumettes from skillet. Set aside.


If skillet has too much oil, remove some of the oil. Add onion, bell pepper, and garlic and saute for a minute or so. Add tomato paste and continue to saute for an additional 2 to 3 minutes. Deglaze skillet with chicken broth and water.


Add gumbo file and other seasoning of your choice. BE SURE TO SEASON WITH SALT and other seasonings of your choice. (DURING THE COOKING PROCESS TASTE ALONG THE WAY AND ADD MORE GUMBO FILE OR OTHER SEASONING FOR DESIRED TASTE.


Add in browned chicken drumettes and sliced chicken sausage and let simmer and cook down for at least 30 minutes. IF NECESSARY ADD MORE LIQUID. Create a slurry and add to skillet to thicken. Continue to simmer until you've reached desired taste.


OPTIONAL: Garnish with sliced parsley, cilantro and/or jalapenos and top with hot sauce.


Serve over cauliflower rice if (Whole30/Paleo) or white or brown rice

Notes
**Please note: Nutritional values serve as a guide only as values may vary.
Make this dish Whole30 by using Arrowroot as a thickener.
Make sure you choose a sausage that is Whole30 compliant or Paleo.  You can use beef, chicken, or pork sausage.  I prefer chicken.  The use Paleo Organic Basil & Cracked Black Pepper Smoked Chicken Sausage by Sabatino or you can try Applegate.
Nutrition
Calories:
680
kcal
|
Carbohydrates:
10
g
|
Protein:
77
g
|
Fat:
35
g
|
Saturated Fat:
7
g
|
Cholesterol:
693
mg
|
Sodium:
3017
mg
|
Potassium:
541
mg
|
Fiber:
0
g
|
Sugar:
3
g
|
Vitamin A:
620
IU
|
Vitamin C:
21.7
mg
|
Calcium:
353
mg
|
Iron:
6.9
mg