This easy 30 Minute Healthy Sesame Chicken recipe is incredibly easy and flavorful and doesn't require any added sugar. Serve it over white or brown rice or over cauliflower rice as a low-carb option. Either way, it's delicious.
I wanted to pop in here real quick to share a quick and easy recipe that's perfect for tonight or any other night when you've run out of ideas or simply need a little inspiration... it's my sesame chicken recipe. It's so good and only need a few ingredients.
Ingredients used:
Chicken thighs or breast
Coco amino* (use in place of soy sauce) and doesn't require that I use any added sugar

Fresh ginger
Fresh garlic
Fresh lime juice
Kosher salt
Cooking oil (grapeseed or extra virgin olive oil
What is Coco Amino*
Coco aminos is a flavor enhancer with a color and consistency much like soy sauce.
It's made from the fermented sap (nectar) of coconut palm and sea salt.
It tastes salty and sweet but tend to be on the sweeter side compared to traditional soy sauce.
It's soy-free and gluten-free.
I was first introduced to coco aminos when I did my first round of Whole30 almost 2 years ago, and I fell in love with it.  Since then, I've used it as a soy sauce substitute.
How to make easy sesame chicken sauce
Sesame chicken sauce doesn't have to be complicated and is quite easy to make. I use simple ingredients and ones that you may already have in your pantry or are very accessible at your nearest local grocery store.
Using a measuring cup, measure out 1 cup of coco aminos
To the measure cup, add ½ to 1 clove of minced garlic
1 inch of grated fresh ginger
1 teaspoons sesame seed oil (sesame seed oil is potent so a little goes a long way I wouldn't use more than 2 teaspoons)
2 to 3 tablespoons of water
Let sit while chicken is searing
How to make healthy sesame chicken
Cut boneless skinless chicken thighs or breast into bite-sized pieces or chucks and season with kosher salt (I used thighs)
Sear chicken on both sides
Add sauce and simmer until chicken is no longer pink inside
Add slurry to thicken sauce
Squeeze juice from fresh lime
Sprinkle in sesame seeds (optional)
Serve over white, brown, or cauliflower rice
Garnish with chopped cilantro or sliced green onion (optional)
If on Whole30, opt for cauliflower rice instead of traditional rice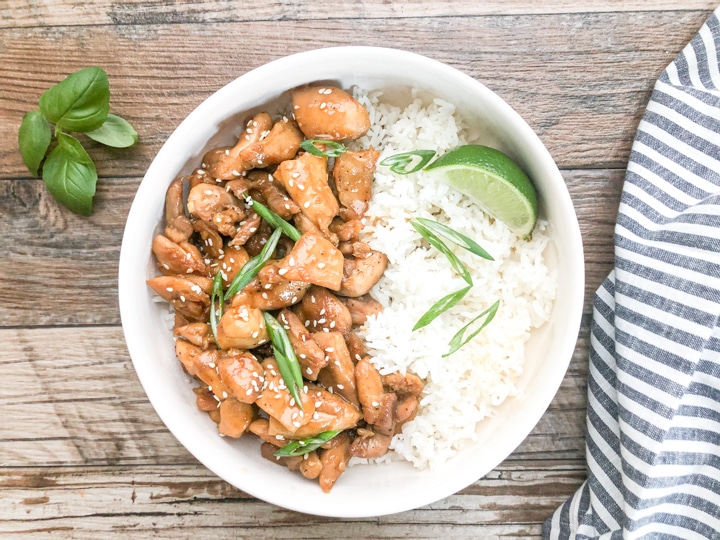 Tips
I prefer chicken thighs over chicken breast as chicken thighs are much more flavorful and can withstand simmering without drying out.  Chicken thighs are less expensive than chicken breast too.
If boneless skinless chicken thighs or breast aren't reasonably priced at the moment and bone-in skin-on chicken thighs or breast are, get that instead and remove the skin yourself and cut into chucks or bite-sized pieces by cutting around the bone.
Use coco aminos instead of soy sauce for a natural slightly sweeter taste without the addition of sugar.
Use sesame seed oil sparingly.  It's potent and as mentioned above a little goes a long way.
Add the juice of a fresh lime or lemon to brighten the dish (Use ½ a lime for juicing).
When searing the chicken, do not crowd the pan work in batches if necessary.  If you crowd the pan, the chicken will steam instead of searing and you will not get the nice brown crusty outer coating.
If searing in batches, add all the chicken back to the pan before adding the sauce
Do not worry about cooking the chicken all the way through while searing.  It will cook all the way through as it simmers in the sauce
You may also like:
Let's connect on Instagram and Pinterest.
Thanks for visiting.
Take care,
~Cree
Healthy Sesame Chicken Recipe
Healthy Sesame Chicken recipe is incredibly easy and flavorful. Serve over rice or cauliflower rice. Either way, it's delicious and only takes 30 minutes.
Print Recipe
Pin Recipe
Ingredients
1

pack

boneless skinless chicken thighs

(cut into bite-sized chucks (or chicken breast))

2

tablespoon

grapeseed oil

(or extra virgin olive oil)

3

teaspoon

kosher salt

(or less if on low-sodium diet)

juice of half a lime
Chicken Sesame Sauce
1

cup

coco aminos

(used as a substitute for soysauce)

1

teaspoon

sesame oil

1

inch

fresh ginger

(grated)

1

fresh garlic clove

(minced)

2

tablespoon

water
Slurry
2

teaspoon

cornstarch

2

teaspoon

water
Instructions
Wash and pat dry chicken with paper towels. Cut chicken thighs into bite-sized chucks. Season with salt.

Place saute pan over medium high heat. Add cooking oil, place chicken in pan and sear until brown crusty coating appears and flip over and sear other side. (Do not crowd pan, sear the chicken in batches if necessary. This is an important step. If you crowd the pan, the chicken will steam and will not sear). Remove seared chicken from pan. Set aside.

Deglaze the pan with the sesame sauce while scraping up the brown bits from the saute pan this enhances the flavor. Add chicken back to pan reduce heat and allow the chicken to simmer in the sauce for 10 to 15 minutes.

Add the slurry to thicken the sauce and allow to simmer for an additional minute or so.

Squeeze the juice of a half lime.

Serve over white rice, brown rice, or cauliflower rice.

Garnish with chopped cilantro or sliced green onion (optional)
Notes
**Please note: Nutritional values serve as a guide only as values may vary.
If on Whole30, opt for cauliflower rice instead of traditional rice
Nutrition
Calories:
304
kcal
|
Carbohydrates:
13
g
|
Protein:
27
g
|
Fat:
14
g
|
Saturated Fat:
2
g
|
Cholesterol:
134
mg
|
Sodium:
3227
mg
|
Potassium:
347
mg
|
Sugar:
1
g
|
Vitamin A:
34
IU
|
Calcium:
13
mg
|
Iron:
1
mg