Easy Crispy Oven Baked Chicken Wings are a family favorite.  In fact, chicken wings are our favorite part of the chicken, so any opportunity I get to whip up a batch is right up my alley.  These beautiful crispy golden brown wings are so flavorful and a healthier option to traditional deep fried chicken.  This recipe is perfect for serving your immediate family, for casual dinner gatherings, or even as a game day recipe.  It requires minimal ingredients and is basically a low maintenance recipe which is the best part.  Keep reading to see how I prep for this Easy Crispy Oven Baked Chicken Wings Recipe.
HOW DO YOU MAKE EASY CRISPY OVEN BAKED CHICKEN WINGS
In my opinion, it starts with the seasoning.  Whether your marinating or using a wet or dry rub to prep your chicken recipe, it's important to create a blend of seasonings and ingredients that are complimentary and captures the essence of your desired taste for that specific recipe.  For this recipe, I went for a Mediterranean inspired smokey blend which I absolutely love… check out the process below:
Marinade:  Soaking meat in a marinade to enhance the flavor is one of my favorite processes when it comes to preparing meat, and the marinade I made for these Easy Crispy Oven Baked Chicken Wings consists of only
extra virgin olive oil
kosher salt
cumin
coriander
garlic herb blend
lime zest
pepper
You may have all or some of these ingredients in your pantry but if you don't it's okay.  Experiment with what you have if you're not in the mood to go to the store to purchase these exact ingredients.  Most of my recipes serve as a guide whereby you can adapt to suite your and your family's taste.  No need to fret.
Note: I knew I would be gone for half the day, so I decided to let the chicken wings marinade in the fridge for that amount of time.  When I arrived home, I removed the chicken from the marinade and placed on a prepared baking sheet.
Bake in oven:  I baked the chicken wings in the oven at 405 degrees for about 45 to 50 minutes until they turned a nice golden brown with a crispy outer coating.
Broil: When I saw that the chicken wings looked crispy and golden brown, I turned the broil on and let them crisp a bit longer (for an extra 4 minutes or so) (DO NOT WALK AWAY FROM THE OVEN AT THIS POINT AS THEY CAN BURN QUICKLY).  Oven temperatures may vary so make sure you check your chicken wings every few seconds.
Ingredients for marinade (EVOO, kosher salt, cumin, coriander, smoked paprika, garlic herb spice blend, lime zest)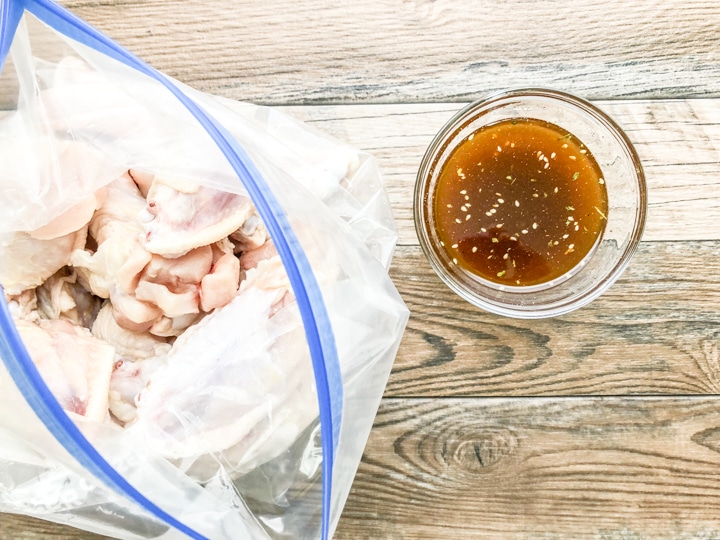 Whisk EVOO and spices together
Add marinade to zip loc bag of chicken wings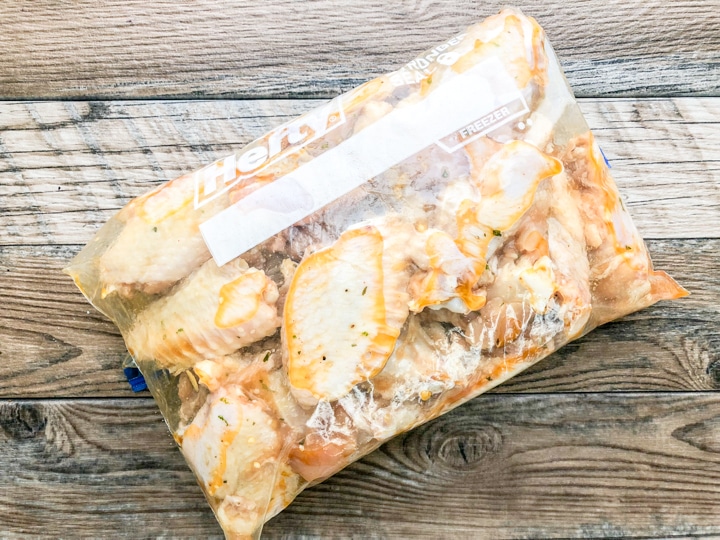 After marinade has been added to the zip loc bag, roll the bag around making sure each chicken wings is well coated.
The final product is Easy Crispy Oven Baked Chicken Wings – YUM!
That's all it took for me to get these down right delicious Easy Crispy Oven Baked Chicken Wings on the table.  Oh yeah, and clean up was so easy.  Minimal ingredients and an easy clean up I would consider this as a win-win.
Here's another marinade that would be excellent too 4 Ingredient Cilantro Lime Marinade.
By the way, have you checked out this chicken recipe, Grilled Cilantro Lime Chicken Skewers.  They are the bomb!
Easy Crispy Oven Baked Chicken Wings
Easy Crispy Oven Baked Chicken Wings marinaded in EVOO, kosher, cumin, coriander, garlic herb blend, smoked paprika, and lime zest to create a delicious golden brown crispy outer coating. So flavorful and delicious!

Keyword:
chicken recipes, weeknight dinner recipe
Ingredients
24

pieces

frozen or fresh chicken wings

or chicken party wings
Marinade
1/2

cup

extra virgin olive oil

1/2

tbsp

kosher salt

more or less to taste

1

tsp

cumin

more or less to taste

1

tsp

coriander

more or less to taste

1

tsp

garlic herb blend

more or less to taste

1

tsp

smoked paprika

more or less to taste

1/2

tsp

lime zest

more or less to taste
Instructions
For marinade: Combing all ingredients and whisk. Set aside.


Heat oven to 405 degrees. Prepare half baking sheet with parchment paper for easy clean up or foil paper. If using foil paper, spray generously with cooking spray to prevent sticking.


Washing chicken wings parts and pat dry with paper towels. Place chicken in a large zip loc bag or bowl, add marinade, and marinade for up to 8 hours. When reading to back remove chicken from marinade draining as much of the excess marinade off the chicken as possible.


Align chicken wing parts on prepared baking sheet leaving an inch or so between each chicken wing part. DO NOT OVER CROWD BAKING SHEET as the skin will not get crispy. Bake until top side is a crispy golden brown (for about 35 minutes. Flip chicken over and bake for an additional 10 minutes. If you want a little more crisp, turn on broil and broil for about 4 minutes (DO NOT WALK AWAY FROM OVEN AT THIS POINT. WHILE BROILING, WATCH CHICKEN CLOSELY SO IT DOESN'T BURN.


Remove from oven and serve with your favorite sides or dipping sauce

Recipe Notes
**Please note: Nutritional values serve as a guide only as values may vary.
If adding juice from a lemon or lime, marinade up to 30 minutes otherwise, the acid from the citrus will begin cooking the meat which will cause an unpleasant texture.
I marinaded the chicken wings for half the day as I didn't use the juice of the lime only the zest.
Nutrition Facts
Easy Crispy Oven Baked Chicken Wings
Amount Per Serving
Calories 344
Calories from Fat 333
% Daily Value*
Fat 37g57%
Cholesterol 6mg2%
Sodium 1171mg51%
Potassium 51mg1%
Carbohydrates 1g0%
Protein 1g2%
Vitamin A 330IU7%
Vitamin C 1.2mg1%
Calcium 6mg1%
Iron 1mg6%
* Percent Daily Values are based on a 2000 calorie diet.