**Updated on February 24, 2020**
These Crispy Oven Chicken Wings are baked and not fried and only require a few key steps that makes it perfectly crisp and flavorful.
Chicken wings are our favorite part of the chicken, so any opportunity I get to whip up a batch is right up my alley. These beautiful crispy golden brown wings are so flavorful and a healthier option to traditional deep fried chicken. This recipe is perfect for serving your immediate family, for casual dinner gatherings, or even as a game day recipe. It requires minimal ingredients and is basically a low maintenance recipe which is the best part. Keep reading to see how I prep for crispy wings.
How do you bake crispy oven chicken wings
Whether you're marinating or using a wet or dry rub to prep your chicken recipe, it's important to create a blend of seasonings and ingredients that are complimentary and captures the essence of your desired taste.
For this recipe, I went for a Mediterranean inspired smokey blend which I absolutely love... check out the process below:
Marinade: Soaking meat in a marinade to enhance the flavor is one of my favorite processes when it comes to preparing meat, and the marinade I made consists of only
Extra virgin olive oil
Kosher salt
Cumin
Coriander
Garlic herb blend
Lime zest
Pepper
You may have all or some of these ingredients in your pantry but if you don't it's okay. Experiment with what you have if you're not in the mood to go to the store to purchase these exact ingredients. Most of my recipes serve as a guide whereby you can adapt to suite your taste. No need to fret.
Marinate for at least 15 minutes or up to 24 hours. (Note: I knew I would be gone for half the day, so I decided to let the chicken wings marinade in the fridge for that amount of time.)
Remove the chicken wings from the marinade gently shaking off any excess marinade and place on a prepared baking sheet lined with parchment paper and pat dry to remove any residual marinade from the chicken wings.
Bake in oven: Place baking sheet in a 405 degree oven and bake for 45 to 50 minutes until the wings turn a nice golden brown with a crispy outer coating.
Broil: When wings look crispy and golden brown, turn the oven to broil and allow the wings to crisp for an extra 2 - 4 minutes or so. (DO NOT WALK AWAY FROM THE OVEN AT THIS POINT AS THEY CAN BURN QUICKLY). Oven temperatures may vary so make sure you check your chicken wings every few seconds.
Ingredients for marinade (extra virgin olive oil, kosher salt, cumin, coriander, smoked paprika, garlic herb spice blend, lime zest)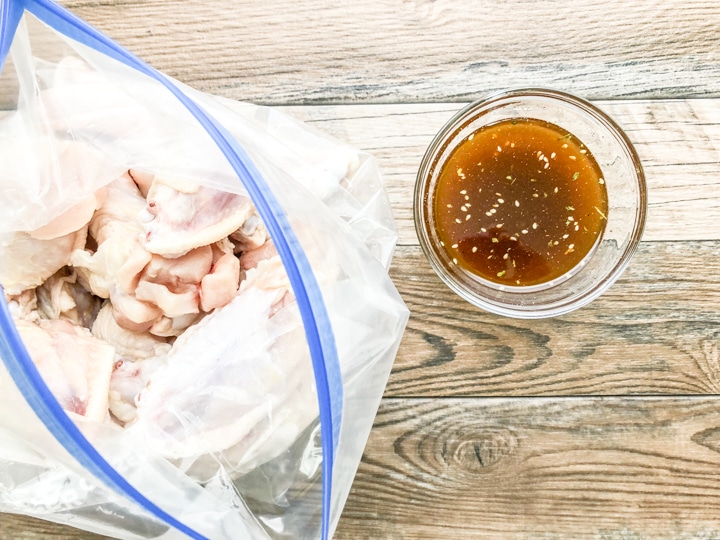 Whisk extra virgin olive oil and spices together
Add marinade to ziploc bag with chicken wings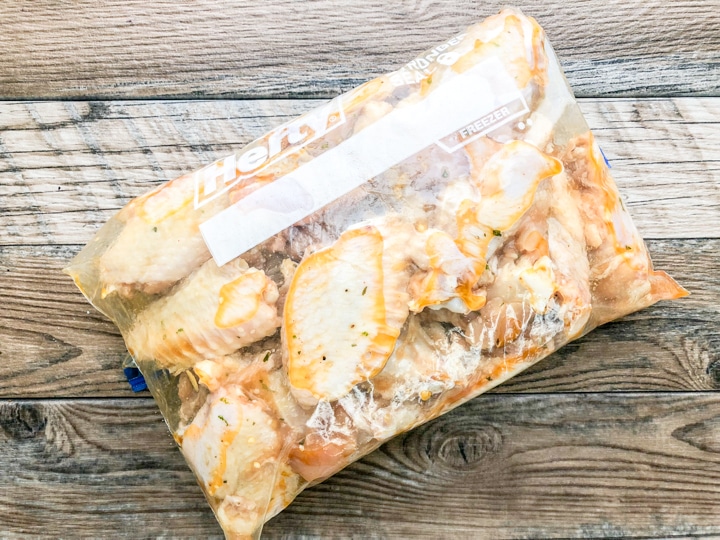 After marinade has been added to the ziploc bag, roll the bag around making sure each chicken wing is well coated.
Note: Chicken wings on prepared baking sheet not shown.
TIP: Do not crowd the prepared baking sheet; therefore, if an additional baking sheet is needed please use it. If you crowd the baking sheet with chicken wings, the wings will steam first and will take longer to crisp up.
Here, you have delicious baked crispy golden brown chicken wings.
Food safety tip:
Although it's recommended that you not wash raw chicken due potential germs getting onto your countertop or sink, I still wash any chicken that I prepare. As I was growing up, my family always washed raw chicken before cooking it and is something I continue to do. It's important that you do what makes you feel comfortable. I included a link for your review: https://www.cdc.gov/foodsafety/chicken.html
A few other chicken recipes you'll enjoy:
Cast Iron Skillet Chicken Breast
Mozzarella Stuffed Chicken Breast
Grilled Cilantro Lime Chicken Skewers
Do you know how to Butterfly/Spatchcock a whole chicken for faster cooking, check out these:
Spatchcock Chicken Recipe with Cajun Spices
Oven Roasted Butterflied Chicken
Easy Crispy Oven Baked Chicken Wings
Easy Crispy Oven Baked Chicken Wings marinaded in EVOO, kosher, cumin, coriander, garlic herb blend, smoked paprika, and lime zest to create a delicious golden brown crispy outer coating. So flavorful and delicious!

Print Recipe
Pin Recipe
Ingredients
24

pieces

chicken wings

(or amount for number of people you're serving)
Marinade
½

cup

extra virgin olive oil

½

tablespoon

kosher salt

(more or less to taste)

1

teaspoon

cumin

(more or less to taste)

1

teaspoon

coriander

(more or less to taste)

1

teaspoon

garlic herb blend

(more or less to taste)

1

teaspoon

smoked paprika

(more or less to taste)

½

teaspoon

lime zest

(more or less to taste)
Instructions
For marinade: Combing all ingredients and whisk. Set aside.


Heat oven to 405 degrees. Prepare half baking sheet with parchment paper for easy clean up or foil paper. If using foil paper, spray generously with cooking spray to prevent sticking.


Wash chicken wings and pat dry with paper towels.  Place chicken in a large ziploc bag or bowl, add marinade, and marinade for at least 15 minutes up to 24 hours.  After you're done marinading, remove chicken from marinade shaking off as much excess marinade as possible.

Align chicken wing on prepared baking sheet leaving an inch or so between each chicken wing and pat dry again to remove any residual marinade.  DO NOT OVER CROWD BAKING SHEET as the skin will not get crispy.  Bake until top side is a crispy golden brown (for about 35 minutes.  Flip chicken over and bake for an additional 10 minutes.  If you want a little more crisp, turn on broil and broil for about 2 - 4 minutes (DO NOT WALK AWAY FROM OVEN AT THIS POINT.  WHILE BROILING, WATCH CHICKEN CLOSELY SO IT DOESN'T BURN.

Remove from oven and serve with your favorite sides or dipping sauce

Notes
**Please note: Nutritional values serve as a guide only as values may vary.
If adding juice from a lemon or lime, marinade for up to 30 minutes only otherwise, the acid from the citrus will begin cooking the meat which will cause an unpleasant texture.
I marinaded the chicken wings for half the day ALTHOUGH NOT NECESSARY.  Also, I didn't use the juice of the lime only the zest.
Nutrition
Calories:
344
kcal
|
Carbohydrates:
1
g
|
Protein:
1
g
|
Fat:
37
g
|
Saturated Fat:
5
g
|
Cholesterol:
6
mg
|
Sodium:
1171
mg
|
Potassium:
51
mg
|
Fiber:
0
g
|
Sugar:
0
g
|
Vitamin A:
330
IU
|
Vitamin C:
1.2
mg
|
Calcium:
6
mg
|
Iron:
1
mg