As I look back, I should have shared my recipe for Baked Beef Short Ribs over the Memorial Day weekend.  This method of preparing beef short ribs was great because it didn't require much effort on my part and the end result was rich in flavor and so D-E-L-I-C-I-O-U-S.  This was the perfect recipe to showcase my favorite Mediterranean dry rub which has become a staple in my home.  This simple dry rub consists of:
Cumin
Coriander
Smoked paprika
Garlic powder
The unique taste of each spice makes for an irresistible dry rub that's bold and full of flavor.
HOW TO COOK BAKED BEEF SHORT RIBS
These Baked Beef Short Ribs are seared to perfection on the outside and moist and tender on the inside. Follow these 4 simple steps and you'll have perfect Baked Beef Short Ribs on the table in no time.
Dry Rub:
What is a dry rub? A dry rub is any combination of dry spices that is used to rub on raw meat.
In a small bowl combine cumin, coriander, smoked paprika, garlic powder or other spices of your choice.
As a note, I do not add salt and pepper to my dry rub.  I always add salt and pepper after I have added the dry rub.  I feel as though I can control the salt much better when I do not add it to the dry rub.
Marinate:
Place well seasoned short ribs in a large zip loc bag and marinate in the fridge for a couple of hours.  Remove short ribs from the fridge about 20 minutes before searing.  This is done to allow the meat to cook more evenly throughout.
Sear:
So, here comes the most important part S-E-A-R-I-N-G.  Before placing the short ribs in the oven you want to make sure each rib has a really good sear.
I took out my lovely dutch oven and heated about two tablespoons of mild tasting olive oil.  When the oil was hot (but not smoking), I started the searing process by placing the rib with the meaty side down into the oil until a beautiful sear appeared on each rib.
Then, I turned the rib over to get a sear on the opposite side.  Although the other side is less meaty, I still try to get the best sear I possibly can.  As a tip,  do not crowd your pan when searing as it will create steam and your meat will not sear properly.
Bake:
Place the seared short ribs on a baking sheet an inch or so apart and continue cooking in the oven.
After baking, you will see a beautiful seasoned crust on the outside of each short rib with a moist and tender inside.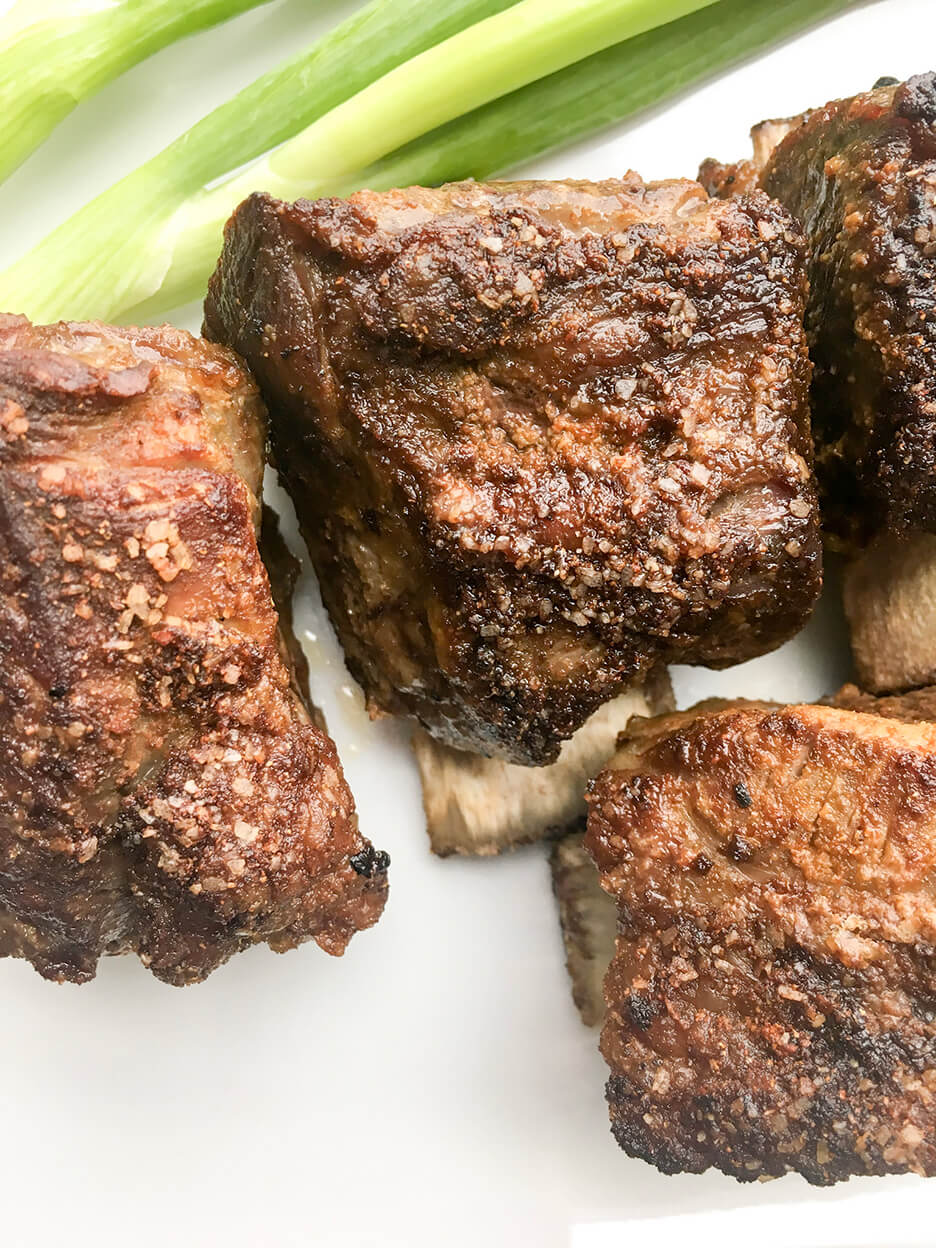 You can feel free to drizzle the top of each beef short rib with your favorite BBQ sauce.  However, these Baked Beef Short Ribs are so flavorful that they do not require much more than to be accompanied by perfect side dishes.
If you're not in the mood to fire up the grill, these Baked Beef Short Ribs would be perfect as a summer dinner with family and friends.
I'd love to hear other ways in which you prepare short ribs.
Baked Beef Short Ribs
These flavorful Baked Beef Short Ribs will leave you craving for more. With 3 simple steps you will end up with an entree that your guest and family will absolutely love.

Keyword:
dry rub, easy, meaty, sear, tender
Ingredients
1/2

tbsp

cumin

1

tbsp

coriander

1

tbsp

garlic powder

1

tbsp

smoked paprika

1

tbsp

salt

more or less

1

tsp

pepper

more or less

2

tbsp

olive oil

14

beef short ribs
Instructions
Preheat oven to 400 degrees. Prepare a baking sheet with aluminum foil (for easy clean-up). Set aside.


In a small mixing bowl, create a dry rub by mixing all cumin, coriander, garlic powder, and smoked paprika. Set aside.


Wash and towel dry beef short ribs. Sprinkle a generous amount of dry rub on each rib and gently press dry rub into each rib. Season ribs with salt and pepper. Place ribs in a large zip loc bag and place in fridge to marinate for about 2 hours.


At the 2 hour mark, remove ribs from fridge and allow ribs to come to room temperature (about 20 mins or so).


In a dutch oven or large saute pan, heat olive oil over medium high heat and place ribs meaty side down to sear. (TIP: Do not crowd pan). Place 4 ribs at a time to pan. When ribs are nicely seared, place on prepared baking sheet.


Bake in oven for 30 minutes or so or to your liking.

Nutrition Facts
Baked Beef Short Ribs
Amount Per Serving
Calories 86
Calories from Fat 72
% Daily Value*
Fat 8g12%
Cholesterol 2mg1%
Sodium 1751mg76%
Potassium 115mg3%
Carbohydrates 4g1%
Protein 2g4%
Vitamin A 890IU18%
Vitamin C 2.6mg3%
Calcium 17mg2%
Iron 1.3mg7%
* Percent Daily Values are based on a 2000 calorie diet.