The Best Way to Cook London Broil requires 2 simple steps… Searing then Baking in the oven.  With these 2 simple steps, you can have a perfectly cooked London Broil on the dinner table in no time.
I have to admit the first time I bought London Broil I really didn't know how it should be prepared.  It was on sale at my favorite local market, so I tossed it in my basket and thought "what the heck" let's give it a try.  I purchased it and went on my merry way.
Although I really didn't know the Best Way to Cook London Broil at the time, I figured keeping it simple would be key to my London Broil success.
BEST WAY TO COOK LONDON BROIL IN THE OVEN
The steps I highlight in this section are recommended if you want a perfectly cooked London Broil that's simple, flavorful and tender.
Season:  Do not be afraid to add a good amount of kosher salt to your London Broil.  In my opinion, this type of steak requires a lot of salt.  If you want the maximum amount of flavor, do not skimp on the salt.  However, if you're on a low sodium diet, use salt sparingly or adapt according to your specific diet.  Also, feel free to add other seasonings if you choose.
Sear:  Searing your London Broil first before baking it in the oven is a MUST.  The caramelized outer coating that's formed from the searing process adds to the depth of flavor, seals in juices, and takes your London Broil to the next level.
Use a cast iron skillet or oven-proof pan
Allow your skillet to get hot enough (i.e. not scorching hot) that it creates a sizzling sound when adding your meat (you can test your skillet by adding a few sprinkles of water – if the water sizzles or jumps around your pan is ready)
(Optional) Before searing my London Broil, I fried a sprig of rosemary in the oil before placing my London Broil in the pan to sear.  Talk about added flavor! This definitely added a special touch
Bake:  After creating a beautiful crusty outer coating from searing your London Broil, place the skillet in the oven and continue cooking to your desired doneness.  My family prefers their steak cooked just until no pink is showing, so baking for 10 to 15 minutes was perfect.
Finishing touch:  Once I removed the skillet from the oven, I decided to finish it off by topping the London Broil with a bit of clarified butter and let it drizzle down the sides.
I used clarified butter as this is a Whole30 recipe.  However, you can use regular butter for the same added richness, but it will no longer be a whole30 recipe.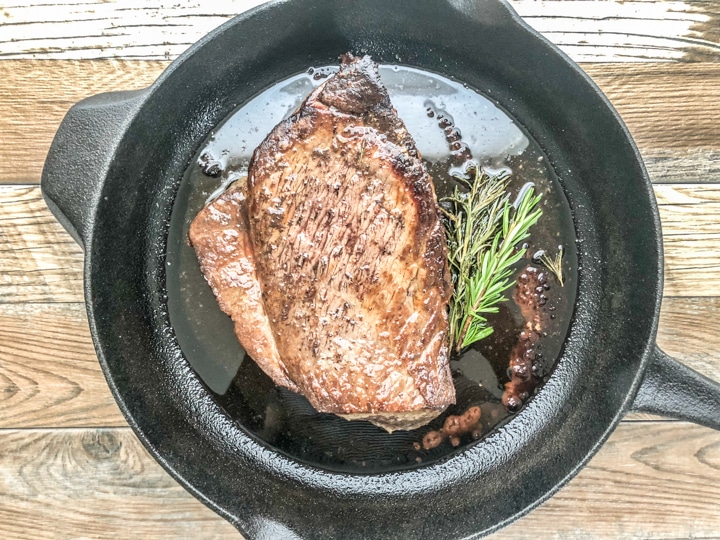 Seared side of the London Broil now will place in the oven to bake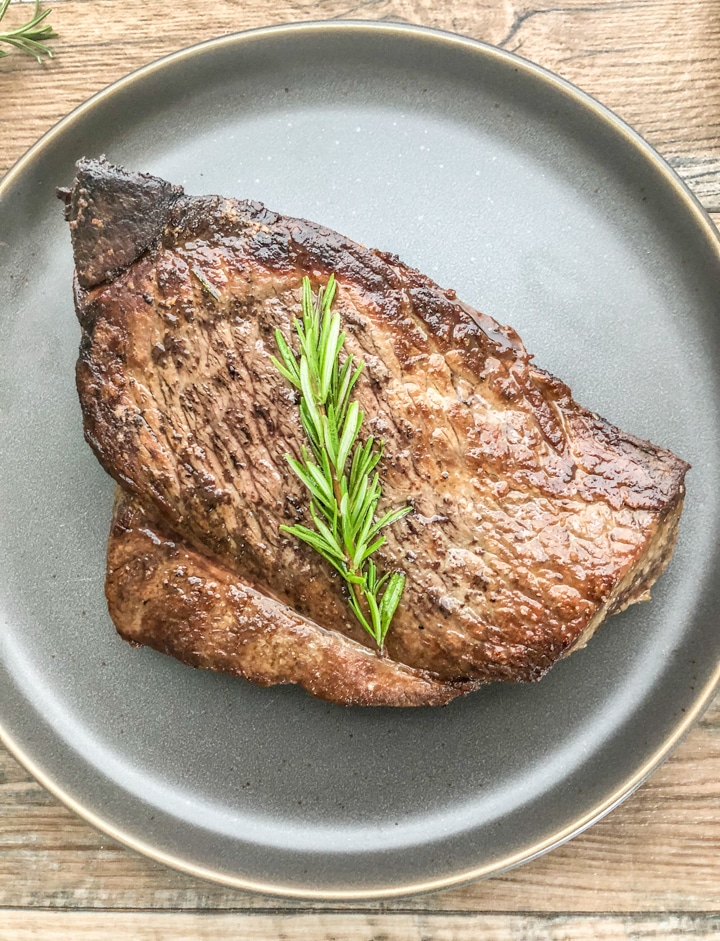 Allowed the London Broil to rest for 5 minutes to retain its juices then plate
The Best Way to Cook London Broil, in my opinion, is to follow the simple steps I've outlined above.
If you're looking for low-carb side dishes to pair with your London Broil, try these:
Simple Arugula Salad with Nectarines
Or another dinner option would be this Oven Baked Chuck Roast paired with Oven Roasted Potatoes and Oven Roasted Beets.
I'd love to read your comments in the comment section below. If you love Pinterest or Instagram, I'd love for you to follow me.  If you could take a few seconds and give a star rating below would be appreciated.
More importantly, thank you for visiting my blog.
By the way, if you have questions about 'How To' recipes or need tips, please send me an email to: cree@cookingwithbliss.com.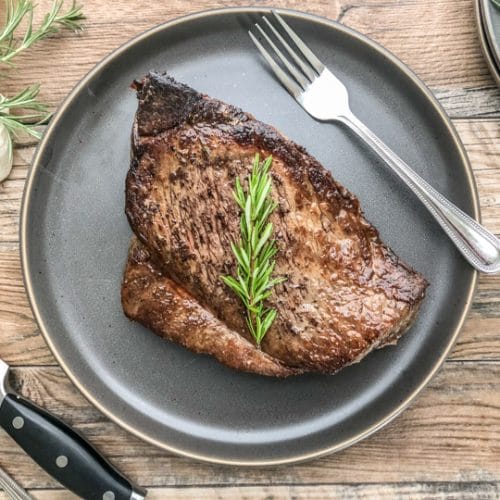 Best Way To Cook London Broil
The Best Way To Cook London Broil that's flavorful and tender requires 2 simple key techniques and that's to Sear then Bake in the oven. This recipe is simple, quick and requires a few key ingredients. A delicious and tender London Broil served in under 30 minutes.
Keyword:
easy steak recipe, easy weeknight dinner, london broil oven recipe
Ingredients
2

tbsp

olive oil

1

sprig

fresh rosemary

1

london broil

salt

to taste

pepper

to taste

1/2

tbsp

clarified butter

or regular butter optional

2

tsp

pepper
Instructions
Preheat oven to 400 degrees


Wash London broil and pat dry with paper towels, season both sides liberally with kosher salt, season with pepper and/or other seasonings of your choice. Set aside.


To a skillet or oven-proof pan, add extra virgin olive oil over medium high heat. Add a sprig of rosemary and pan fry just until rosemary turns brown. remove fried rosemary from heat and set aside.


Add the London broil to the hot skillet and begin to sear one side for about 6 minutes or until you see a beautiful brown crusty outer coating. flip the London broil over and keep skillet on the stove for an additional 3 or so minutes.


Remove the skillet from the stove and place in the preheated oven and bake to your desired doneness. If you prefer your meat cooked just until no longer pink, then bake between 10 to 15 minutes. If you prefer medium rare bake maybe for 7 minutes at first. (My family prefers just until no longer pink).


Finish it off by topping with clarified butter or regular butter and allowing it to drizzle down the sides. Baste London broil with pan juices and allow it to rest for 5 minutes before cutting. After the meat has rested, slice the London broil thinly against the grain.

Recipe Notes
**Please note: Nutritional values serve as a guide only as values may vary.
Season the London Broil  liberally with salt
Do not overcook, as it can dry out and become tough to chew
After the London Broil has rested, cut thinly against the grain before serving
Nutrition Facts
Best Way To Cook London Broil
Amount Per Serving
Calories 204
Calories from Fat 126
% Daily Value*
Fat 14g22%
Cholesterol 52mg17%
Sodium 48mg2%
Potassium 298mg9%
Protein 17g34%
Calcium 22mg2%
Iron 1.6mg9%
* Percent Daily Values are based on a 2000 calorie diet.