Pizza with Pesto Sauce – The absolute best pizza for ending the week.  Friday nights are usually pizza night at my house.  Although we all love pizza, we like different variations which makes it even more fun to make let alone eat.  Pizza with Pesto Sauce is high on my list of favorite pizzas.  It tastes so different from the "traditional" tomato based pizza sauce.  The herbs from the pesto adds such a fresh and delicate taste.  This pizza recipe is SO EASY to make and allows for versatility.
HOW TO MAKE PIZZA WITH PESTO SAUCE
Pizza dough:  If you follow my blog, you may have noticed that I posted about the Best Homemade Pizza Dough recently.  This is a recipe that you have to try at some point.  Friends, it is so EASY and taste so much better than store bought pizza dough.  However, I do understand that if you're pressed for time, store bought pizza dough would be your next best option.  I promise I will not judge as that's what I used for years.
Pesto sauce:  Now, for the star of the show, I also recently posted this flavorful Sun Dried Tomato Pesto Recipe.  This is a ridiculously easy recipe that comes together in minutes – literally.  But again, I do understand that if time is of the essence store bought pesto would be a good option.
Type of cheese:  I prefer grating my own mozzarella cheese as it melts so much better than pre-grated cheese.  Fresh mozzarella is a wonderful option as well.
Tip:  If you use fresh mozzarella, make sure to dry it thoroughly with paper towels before topping your pizza. 
Toppings:  As you know, your choice of toppings are endless.  If you prefer vegetarian or are on a vegetarian diet, you can go with an array of veggies or keep it simple like I did and top with arugula, black olives and even mushrooms.  As a side note, arugula is a peppery flavored green vegetable that can be used as an herb or a lettuce.  I love arugula on pizza but do not particularly care for it served with salad – go figure :).  On the other hand, if you're not vegetarian, you can top with ground Italian sausage, grilled chicken, etc.  Again,
Tip: If you're topping you're pizza with delicate veggies such as arugula or fresh herbs, these types of toppings should be placed on the pizza after it comes out of the oven if not they would burn or char giving an unpleasant taste and presentation.
Layering:
Roll the pizza dough into a shape of your choice (circular, oblong, or rustic)
Drizzle extra virgin olive oil over the dough
Blind bake the pizza dough for a few minutes (optional)
Slather a thick layer of pesto sauce over pizza dough
Add grated mozzarella cheese & black olives
Bake in the oven until cheese has melted
Remove pizza from oven
Top with fresh arugula, another drizzle of EVOO, and fresh grated parmesan
See step-by-step photos for a visual representation.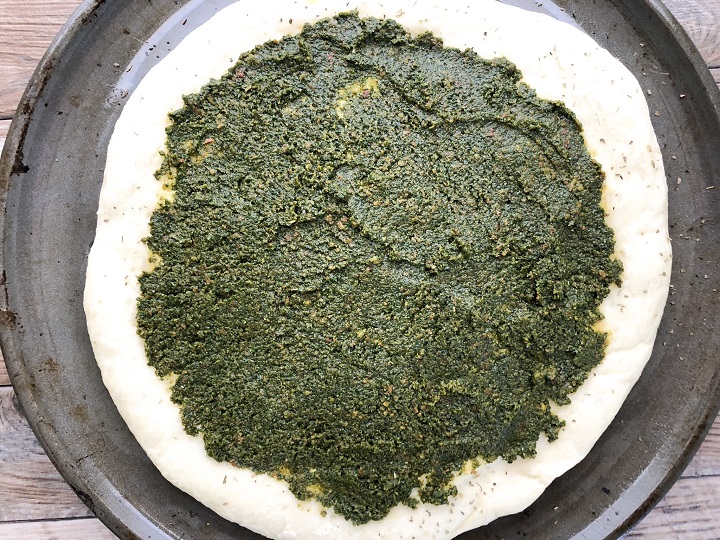 Your finished product will be this beautiful and delicious Pizza with Pesto Sauce.
I'd love to hear your comments in the comment section below.  If you love Pinterest or Instagram, I'd love for you to follow me.  More importantly, thank you for visiting my blog.
Pizza with Pesto Sauce
Pizza with Pesto Sauce - An EASY and DELICIOUS recipe using the Best Homemade Pizza Dough and Sun-Dried Tomato Pesto Recipe. Make Pizza Night fun and exciting with different variation of freshly made pizza.

Keyword:
homemade pizza dough, pesto pizza, vegetarian pizza
Ingredients
1

pizza dough

homemade or store brand (see link for homemade pizza dough)

1/2

cup

pesto

homemade or store brand (see link for homemade sun-dried tomato pesto)

1

cups

grated mozzarella cheese

grate your own cheese if possible as it melts better

1

cup

fresh arugula

optional

1/2

cup

canned sliced black olives

optional

1/4

cup

grated parmesan cheese

grate your own cheese if possible as it melts better

1

tbsp

extra virgin olive oil

divided

1

tsp

dried Italian seasoning
Instructions
Preheat oven to 475 degrees.


Prepare pizza pan by lightly spraying with cooking spray to prevent pizza dough from sticking. Set aside


Roll out pizza dough to preferred shape (circular, oblong, or rustic shape). Drizzle lightly with extra virgin olive oil.


Slather a layer of pesto sauce on pizza dough. Top with grated mozzarella cheese and sliced black olives. Place pizza in preheated oven until cheese melts. Remove pizza from oven and top with fresh arugula, drizzle with extra virgin olive oil, and top with freshly grated parmesan cheese.


Slice pizza into triangles or squares and ENJOY!

Recipe Notes
**Please note: Nutritional values serve as a guide only as values may vary.
If you buy store bought pizza dough or pesto, your cooking time will drop from 1 hr and 10 minutes to 10 minutes.
The amount of cheese and pesto you put will effect the nutritional values.
To decrease the amount of calories and fat, you can omit the drizzles of olive oil and parmesan cheese at the end.  The pizza will still taste delicious.
Nutrition Facts
Pizza with Pesto Sauce
Amount Per Serving
Calories 194
Calories from Fat 144
% Daily Value*
Fat 16g25%
Cholesterol 15mg5%
Sodium 557mg24%
Potassium 30mg1%
Carbohydrates 3g1%
Protein 7g14%
Vitamin A 690IU14%
Vitamin C 0.5mg1%
Calcium 233mg23%
Iron 0.5mg3%
* Percent Daily Values are based on a 2000 calorie diet.