Oven Baked Chuck Roast Recipe - a succulent and tender tried and true recipe.  With Valentine's Day just a month or so away, I thought I would share this simple yet flavorful dish.  Even if you're not a cook, you'll appreciate the simplicity of this dish.  It only requires a few easy steps, and you're well on your way to a perfectly cooked boneless chuck roast.  It doesn't require a dry rub or any special spices just kosher salt, black pepper, minced garlic, sliced shallots, chicken broth and red wine.
So, if you're looking for a nice cut of beef that's tender and packed with flavor continue reading.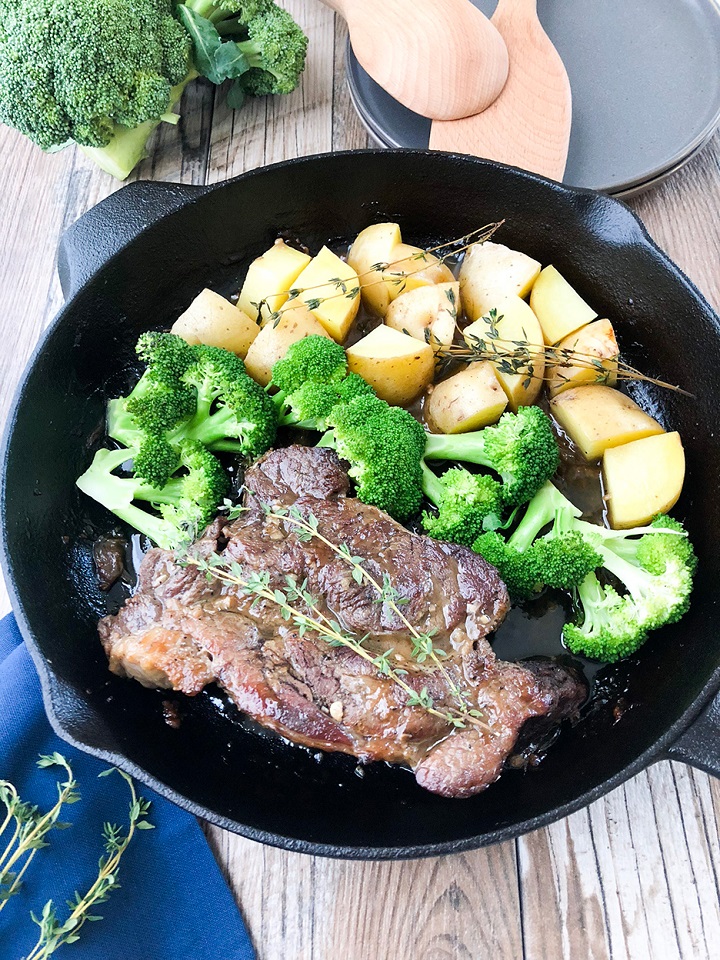 HOW LONG DO YOU COOK AN OVEN BAKED CHUCK ROAST RECIPE AT 350 DEGREES
In my opinion, to get perfectly delicious fork-tender chuck roast, cook it slow for at least a couple of hours.  Although I suggest at least a couple of hours, doesn't mean that this process requires a lot of work.  In fact, this Oven Baked Chuck Roast Recipe is a low maintenance dish.  Let's highlight some key elements to get the most flavor:
Seasoning: Believe it or not I used only kosher salt and black pepper and seasoned both sides of the boneless chuck roast.  It's important to season the roast well.
Searing:  This step is important as searing really enhances the flavor of the chuck roast, and that beautiful outer crust is like icing on the cake.  When searing meat, patience is a virtue.  In other words, be patient and avoid the temptation of flipping the meat over too early.
Tip: Your skillet should be hot but not smoking hot to the point that the oil in the skillet begins to burn.  Note: Cast iron cooks evenly and therefore doesn't need to be cooked over high heat.
Pan juices:  Develop the flavors of the pan juices by first sauteing aromatics such as onions or shallots and fresh garlic.  For this Oven Baked Chuck Roast Recipe, I went a step further by adding red wine and chicken broth to add another depth of flavor.  I believe that cooking is about experimenting, being creative, and building on flavors.
Bake in oven: The final step to this easy recipe is to bake the chuck roast in the oven covered at a low temperature such as 350 degrees for 2 to 3 hours until it's fork tender.
Tip: For extra flavorful and tenderness, baste the chuck roast with the pan juices 2 to 3 times.  It's definitely worth it.  Basting is not required but is recommended.
Make it a one pot meal: Turn this Oven Baked Chuck Roast Recipe into a one pot meal. Adding veggies and potatoes to the skillet will turn it into a complete one pot meal and makes for an easy clean-up.
Also, check out my Dutch Oven Beef Stew made with fork-tender chuck roast and made in one pot.  It's so easy and is super delicious.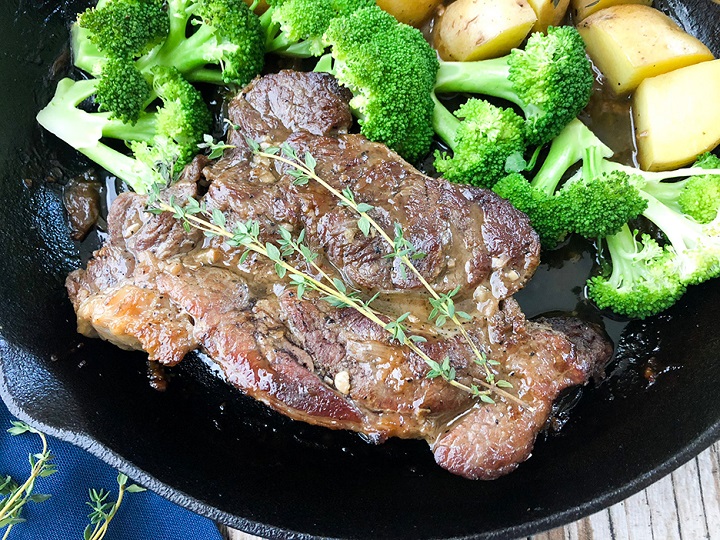 These would make great side dishes (CLICK LINKS BELOW):
Oven Roasted Broccolette Recipe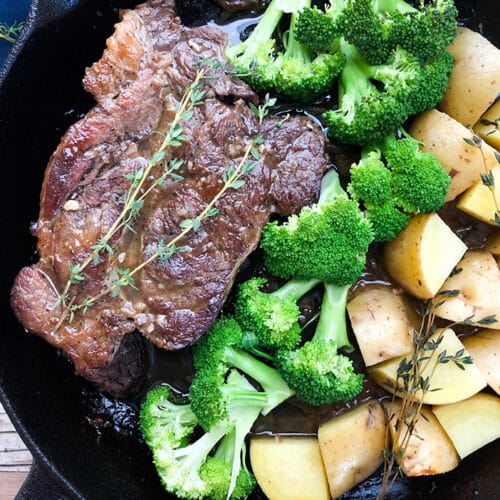 Oven Baked Chuck Roast Recipe
A 6-ingredient Oven Baked Chuck Roast that's slow cooked to perfection. The cooking method described below makes for a tender and flavorful chuck roast for two or double the recipe to make it family style.

Print Recipe
Pin Recipe
Ingredients
2

lbs

boneless chuck roast

2

teaspoon

kosher salt

(or more to taste)

1

teaspoon

black pepper

(to taste)

1

sliced shallot

2

minced garlic cloves

¼

cup

red wine

¼

cup

low sodium chicken broth

(or beef broth)

2

tablespoon

olive oil

3

cups

yukon gold potatoes

3

cups

broccoli
Instructions
Preheat oven to 350 degrees.


Slice shallot, minced garlic, measure red wine, measure chicken broth, wash and cube potatoes, wash and but broccoli into florets. Set aside.


Wash chuck roast and dry with paper towels and season with kosher salt and pepper.


Add olive oil to an oven-proof skillet or cast iron skillet. If using an iron cast skillet place over medium heat otherwise place over medium high heat. When cast iron skillet is hot but not smoking hot, add chuck roast to skillet and sear on both sides for about 6-8 minutes or until a nice brown outer crust forms. Remove from skillet and place on a clean plate.


In the same skillet, add onions & garlic and saute for about 30 seconds or until onions become translucent. Add red wine and chicken broth and heat for about 4 minutes. Add chuck roast back to skillet. Cover completely with an oven-proof lid or with foil paper and place in oven.


Allow chuck roast to bake slowly for about 2-½ to 3 hours. While in the oven, choose 2 or 3 times to baste the chuck roast with its pan juices (this creates more flavor and tenderness to the roast). This step is not required but highly recommended.


When chuck roast is tender, remove from oven and plate OR create a one pot meal (see below).

Make It a One Pot Meal
30 - 40 minutes before removing the chuck roast from the oven, add the cubed yukon potatoes and season & 15 minutes before add the broccoli and season.

Notes
**Please note: Nutritional values serve as a guide only as values may vary
Note: Cast iron cooks evenly and therefore doesn't need to be cooked over high heat
Feel free to make the following modifications:
¼ cup white wine instead of red wine
½ cup low sodium chicken broth instead of wine
½ cup beef broth instead of chicken broth
½ cup water instead of broth and wine
Nutrition
Calories:
1017
kcal
|
Carbohydrates:
45
g
|
Protein:
81
g
|
Fat:
56
g
|
Saturated Fat:
20
g
|
Cholesterol:
250
mg
|
Sodium:
2702
mg
|
Potassium:
2794
mg
|
Fiber:
10
g
|
Sugar:
3
g
|
Vitamin A:
900
IU
|
Vitamin C:
152.8
mg
|
Calcium:
208
mg
|
Iron:
17.2
mg