These Soft and Chewy Peanut Butter Cookies are so darn GOOD! I've taken the classic peanut butter cookie recipe and lightened it up by incorporating unsweetened applesauce into the cookie batter. This recipe is quick, simple, uses one bowl, and the best part is that it doesn't require a mixer. A good ole whisk works like a charm for this recipe. So, clean up should be a cinch!
HOW TO MAKE SOFT AND CHEWY PEANUT BUTTER COOKIES
First things first, it is important that all of your wet ingredients are at room temperature. Check out the recipe note section below for some tips.
Creaming Method: When it comes to baking cakes and cookies, the creaming method is the foundation to really good baking. The creaming method is when butter and sugar are mixed together until the sugar is dissolved and the mixture becomes light, airy, and fluffy.
In this recipe, we are adding unsweetened applesauce to the creaming method as we're removing most of the butter and replacing it with a healthier alternative to cut back on fat and calories. Not only is unsweetened applesauce healthier compared to butter, but it's also flavorless which makes it great for baking. It will not alter the taste let alone the texture when substituted correctly.
For these Soft and Chewy Peanut Butter Cookies, I creamed together the following ingredients: brown sugar, white sugar, unsweetened applesauce, and a bit of butter.
I didn't totally eliminate butter from this recipe instead I added only 1.5 to 2 tablespoons of butter just to add more richness to the cookie dough, and my family didn't even notice that most of the butter had been replaced with unsweetened applesauce.
Wet Ingredients: After the creaming method, I added peanut butter, an egg, and vanilla extract and whisked the ingredients. By the way, if you prefer almond butter over peanut butter, feel free to add almond butter in this step. They're just as good.
Dry Ingredients: To the same bowl, I added the following ingredients: flour, baking soda, salt, and cornstarch. Trust me on this one. Cornstarch may sound bizarre, but it seems to make these Soft and Chewy Peanut Butter Cookies more tender and soft. Lightly, whisk those dry ingredients that sit on top of those wet ingredients
Combine Dry and Wet Ingredients: With a medium or large spoon, combine those dry ingredients into the wet until well incorporated. Do not over-mix the cookie dough as this could result in a tough cookie dough.
If the cookie dough is too sticky, add 1 extra tablespoon of flour. If the dough is still too sticky, cover the bowl with saran wrap and pop the bowl of cookie dough into the fridge to chill.
Chill Cookie Dough: Chill the cookie dough for at least 10 to 15 minutes. The dough will look stiff and that's okay. This step will prevent the cookie dough from spreading too much while baking.
Bake Time: It's important that you not over-bake the cookies. When the recommended baking time is up, the cookies will look under-cooked and that's how they're suppose to look. The next step is to remove the cookies from the oven, place on the counter-top and allow them to continue to bake for at least 3-5 minutes. Next, place the cookies on a cooling rack and cool for at least 10 minutes.
For some baking tips, check the recipe notes section below.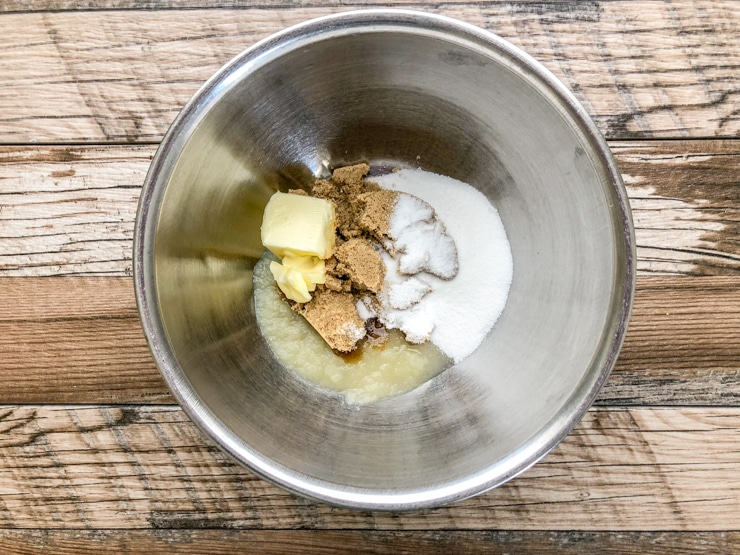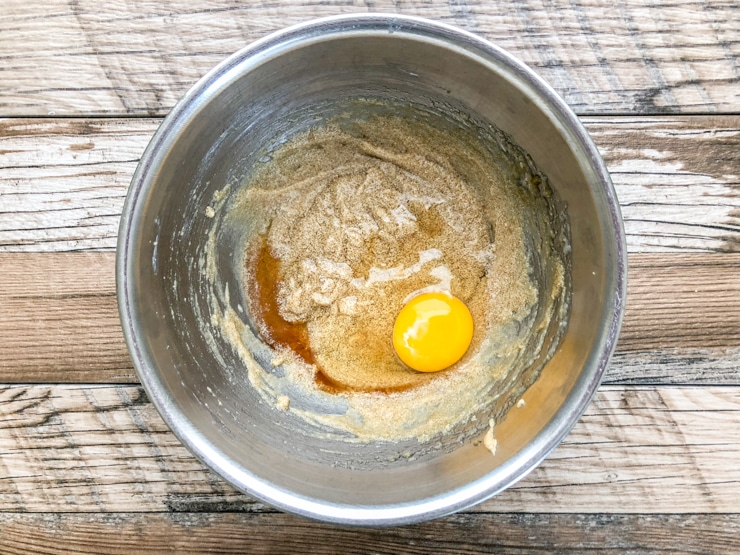 WHAT MAKES COOKIES SOFT AND CHEWY
Well, this all depends on the sugars. White sugar tends to make crisper cookies, while light or dark brown sugar make cookies soft and chewy just like in these Soft and Chewy Peanut Butter Cookies.
Brown sugar is a sucrose sugar that consists of molasses which gives it its brown color. In other words, brown sugar is simply white sugar that has been mixed with molasses. It has a higher moisture content that helps in making baked goods soft.
I hope you find this post helpful in your quest to finding delicious and slightly healthier Soft and Chewy Peanut Butter Cookies. Remember this recipe is quick, easy, and calls for one bowl, a whisk, a large spoon, and a handful of pantry staples.
I'd love to hear your comments in the comment section below. If you love Pinterest or Instagram, I'd love for you to follow me. More importantly, thank you for visiting my blog.
By the way, if you have questions about 'How To' recipes or need tips, please send me an email to: [email protected].
Cree
📖 Recipe
Soft and Chewy Peanut Butter Cookies
Soft and Chewy Peanut Butter Cookies are made with UNSWEETENED APPLESAUCE for a lightened-up version, a tad bit of butter for added richness, and those pantry staples we know all too well. You gotta try these.
Print Recipe
Pin Recipe
Ingredients
1.5

tablespoon

softened butter

¼

cup

unsweetened applesauce

(at room temperature *Note: Use a dry ingredient measuring cup (see recipe notes))

1

egg

(at room temperature)

¼

cup

white sugar

½

cup

brown sugar

1

teaspoon

vanilla extract

1.5

cups

unbleached all purpose flour

1

tablespoon

unbleached all purpose flour

½

teaspoon

salt

½

teaspoon

baking soda

½

teaspoon

cornstarch

¾

cup

peanut butter
Instructions
Preheat oven to 350 degrees.


Prepare baking sheet with parchment paper or silpat.

Wet Ingredients
Cream together unsweetened applesauce, butter, white sugar & brown sugar and whisk until light, fluffy, and airy.


Add peanut butter and whisk, add vanilla extract and whisk.


To same bowl, add flour, baking soda, salt, & cornstarch. Whisk dry ingredients lightly. With a medium or large spoon, mix until all ingredients are combined. DO NOT OVER MIX COOKIE DOUGH BATTER.


Using an ice cream scoop or cookie scoop, drop cookie dough onto prepared baking sheet. With index, middle, and ring fingers together, gently press each ball of dough to flatten slightly. If cookie dough is to sticky, damp fingers with water to prevent the dough from sticking to your fingers. Use a fork to create hash marks on the top of each cookie. Bake at 350 degrees for 7 to 10 minutes. DO NOT OVER BAKE. Remove from oven and allow to rest for 3-5 minutes. Transfer cookies to cooling rack for 5 to 10 minutes.
**Note: For this batch, I added two scoops of dough per cookie to make larger cookies. Otherwise, use one scoop of dough per cookie to make them smaller.


Store extras in an air tight container or zip loc.

Notes
*When I first measured the applesauce, I used a dry ingredient measuring cup by mistake; however, it turned out to be the perfect amount for this recipe.  Since that measurement worked, I stuck with it and didn't change to a wet ingredient measuring cup.
**Please note: Nutritional values serve as a guide only as values may vary.
If you decide to make cookies at the last minute, use the following tips to bring your wet ingredients to room temperature:
Measure out the applesauce and microwave for 30 seconds or less just to knock the chill off.  DO NOT OVERHEAT.
In a small bowl, fill with warm water and place the egg in the warm water for 5 minutes.
Hopefully, your butter is already soft, if not, measure out the butter and place in microwave for a few seconds until it softens and does not melt.
When measuring dry ingredients, it is important that you measure correctly:
When measuring out the flour, scoop the flour into the dry measuring cup using a spoon and fill.  When you've filled the measuring cup to the top, level the top with a butter knife or a straight finger. 
The above method will prevent you from packing your measure cup with flour.  If you pack your measure cup with flour, your dough will become dense which may result in a dry cookie. 
The same holds true for salt, baking soda and cornstarch.  When you fill your measure spoon, level off with a straight finger.
It's worth noting that darker baking sheets require less baking time compared to lighter baking sheets and the end results tends to be a crispier cookie and darker bottom compared to lighter baking sheets. 
Personally, I prefer baking on a lighter baking sheet.
Nutrition
Calories:
301
kcal
|
Carbohydrates:
39
g
|
Protein:
8
g
|
Fat:
13
g
|
Saturated Fat:
3
g
|
Cholesterol:
23
mg
|
Sodium:
325
mg
|
Potassium:
189
mg
|
Fiber:
1
g
|
Sugar:
20
g
|
Vitamin A:
85
IU
|
Calcium:
25
mg
|
Iron:
1.6
mg