Today, I'm bringing you a recipe that I think you'd definitely appreciate.  It's quick, easy, and very flavorful.  So, if you're on the look-out for an Asian inspired marinade you'll love this Quick Asian Beef Marinade.  This marinade requires only a few ingredients and is perfect for marinating beef lion flap meat, skirt steak or flank steak.
The key ingredients used are:
Soy sauce
Rice vinegar
Worcestershire
Salt
Lemon or lime zest
Fresh squeezed lemon or lime juice
Fresh garlic
Although the ingredients can be mixed in a bowl, it's a lot easier to use a large ziploc bag.  Preparing the Quick Asian Beef Marinade in a large ziploc back is super convenient and makes for an easy clean-up.  As cooks, we are always looking for tips and new ways of making our cooking process easier and more enjoyable.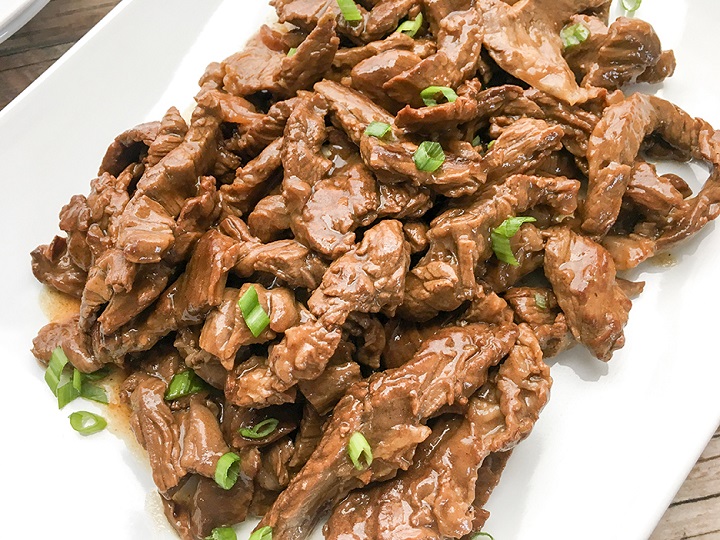 How to Prepare Quick Asian Beef Marinade
Begin by placing a large ziploc bag inside of a medium sized mixing bowl and folding the edges of the ziploc bag over.  Placing the ziploc bag in the bowl provides a sturdy vessel for adding the ingredients to the ziploc bag.
Marinade: For this marinade, I always add ½ the amount of rice vinegar as I do not like the rice vinegar over-powering the other ingredients.  However, you may want to experiment with the different ratios.  For example, you may like your marinade to have equal parts of rice vinegar, soy sauce and worcestershire.
Choice of Beef: 99.9% of the time, I use beef lion flap.  This cut of beef is perfect for a Quick Asian Beef Marinade.  It's thin, has the perfect amount of fat to ensure a moist and tender bite.  It absorbs the marinade very and cooks within minutes.  All you need to do is wash the beef, cut it into strips going against the grain and add the strips to the marinade.
Time: You can marinade your beef anywhere from 30 minutes up to two hours.  Although a longer marinade will guarantee more flavor, 30 minutes will be perfect as well.  When I'm pressed for time, I only marinade for 30 minutes and I'm never disappointed.  The flavor is still delicious and tastes as if I had marinated longer.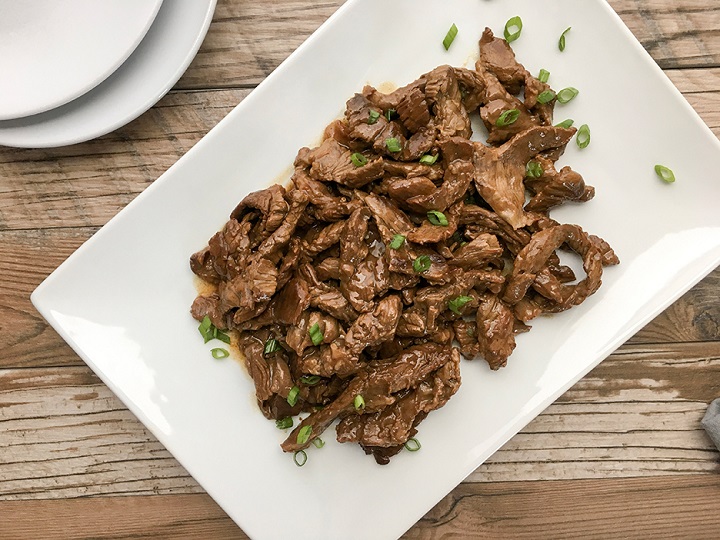 Cooking Marinated Steak
Marinated steak is wonderful grilled, sauteed, or seared.  I love a really good sear, so I decided to get a really nice sear on each marinaded beef strip then tossed the strips in a sauce to add another layer of flavor.  The strips were perfect served over rice or you could steam broccoli for a great beef and broccoli dish.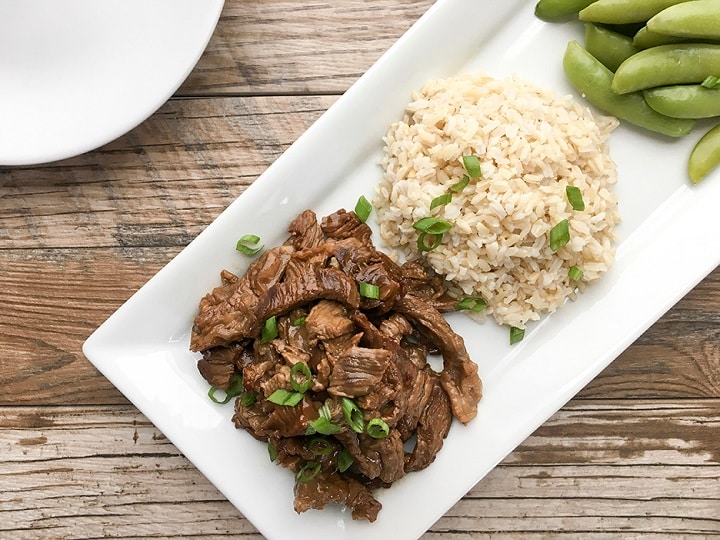 If you're burned out on chicken and looking to add another beef dish to your dinner menu, check out this recipe for Baked Beef Short Ribs.
📖 Recipe
Quick Asian Beef Marinade
If you're looking for a foolproof way to marinade flap, skirt, or flank steak, this Quick Asian Beef Marinade is perfect. Whether you marinade for 30 minutes or up to 2 hours, you get the same delicious flavor in every bite.

Print Recipe
Pin Recipe
Ingredients
2

tablespoon

rice vinegar

4

tablespoon

soy sauce

4

tablespoon

worcestershire

1

teaspoon

olive oil

zest of one lemon or lime

juice of one lemon or lime

5

whole garlic cloves

(peeled)
Instructions
Place a large ziploc bag in a large mixing bowl. Fold edges of ziploc bag over. Add all ingredients to ziploc bag. Add your choice of beef. Seal the ziploc bag removing any air. Move the ziploc bag around making sure all beef is coated in the marinade. Refrigerate for 30 minutes to 2 hours.


Remove meat from ziploc bag and cook according to your recipe. Discard marinade.

Notes
**Please note: Nutritional values serve as a guide only as values may vary.
1 teaspoon salt is optional
Nutrition
Calories:
40
kcal
|
Carbohydrates:
5
g
|
Protein:
2
g
|
Fat:
1
g
|
Sodium:
1754
mg
|
Potassium:
189
mg
|
Sugar:
2
g
|
Vitamin A:
15
IU
|
Vitamin C:
3.4
mg
|
Calcium:
29
mg
|
Iron:
1.4
mg