The perfect Steak Soft Taco Recipe made with succulent sliced flap meat that's been marinated for added flavor and filled with freshly homemade salsa, avocado, pickled red cabbage and thinly sliced romaine lettuce.  This recipe is quick, easy, and low maintenance.  
If 'Taco Tuesday' is your thing, I've got you covered with this weeknight dinner inspo.  So, if you're still on a Cinco de Mayo High? Perfect, let's get working on these steak soft tacos.
HOW TO MAKE SOFT TACO RECIPE
This soft taco recipe is super simple to make.  First, it's important to prep the star of the show which is your steak meat.  I used flap meat but skirt or flank steak would be great options as well. Either way, I would suggest putting together a quick dry rub to marinade the steak between 15 to 30 minutes if time permits.
I prefer aiming closer towards the 30 minute mark, but life sometimes get in the way and 15 minutes will have to do.
I'll highlight the steps below:
Marinate your meat
Thinly slice your steak against the grain and salt
Add the thinly slice steak to a ziploc bag and add the dry-rub (onion powder, garlic powder, smoked paprika, black pepper, cayenne, and red pepper flakes
Marinate for 15 to 30 minutes
Gather all of your fixing
While steak in marinating, prep your fixings
Thinly slice lettuce, dice tomatoes, avocados, etc
Prepare any homemade condiments of your choice such as salsa, guacamole, or pickled red cabbage or simply use your favorite store brand
Slice or crumble cheese of your choice
Prep the corn tortillas
I tend to prep my soft corn tortillas in two ways.  It really depends on how I feel.  Oh, and I prefer white corn tortillas over yellow corn.  In my opinion, yellow corn tortillas taste dry.
I warm the tortilla shells on top of a griddle (with or without oil) again it depends on how I feel.  If I'm not worried about the extra calories, I'll add a little cooking oil to the griddle but most of the time I just warm it on a dry griddle for a minute or so.
Or, I warm the tortillas on top of the stove-top burner over the open flame for 30 seconds or a minute or so on both sides.  If you use this method, pay attention as you do not want to heat your tortilla too long as it will become too crispy.
Assemble tacos
Once your sliced steak is seared, veggies are cut and condiments are chosen, organize all your ingredients in a nice assembly line and begin stuffing your tacos with all that delicious goodness.
It's that simple.  Dinner is served.
WHAT ARE SOFT TACO MAKE OF
Soft tacos are very versatile and can be made up of ingredients that suits you and your family.  Even this recipe can be altered to your own individual liking.  If steak isn't your thing, go for chicken.
If you're a vegetarian or vegan, omit the meat altogether and aim for black beans or sweet potatoes instead of meat and go for veggies that you think would be great for making a awesome vegetarian soft taco.
A soft taco is made up of your choice of meat (steak, pork or chicken) and various types of vegetables and condiments such as salsa, pico de gallo, guacamole, sour cream, and types of hot sauces if that's your thing.
A soft taco can all come in the form of a vegetarian taco which is also delicious.  Again it's all about your own individual taste or lifestyle.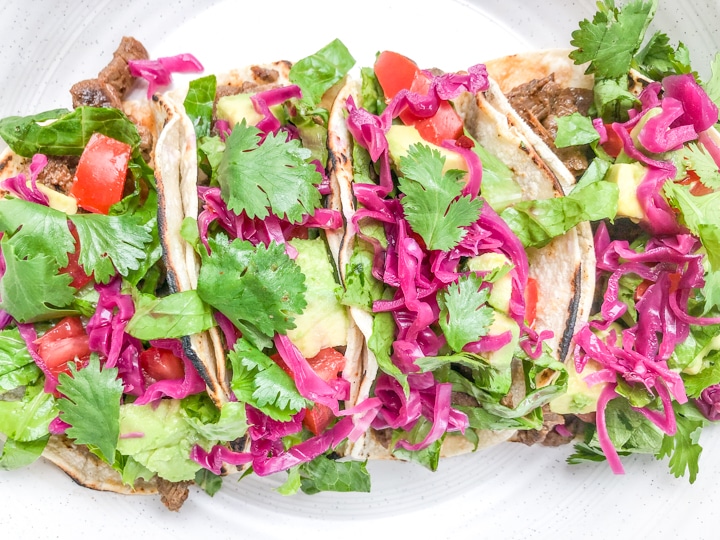 WHAT'S BETTER CORN OR FLOUR TORTILLAS
The only time we really eat a white flour tortilla is when we're out.  When I make Mexican food at home, I either by white corn tortillas or whole wheat/whole grain tortillas.
Corn tortillas are smaller than flour tortillas and appear to be healthier than white flour tortillas and whole wheat tortillas appear to have greater health benefits than white flour tortillas.
It's important to read the nutrition label on the packaging and decide which kind of tortillas would make your body feel its best.
I really hope this steak soft taco recipe inspire you to make this dish for your family.
Here are a few other recipes that you might like:
4 Ingredient Cilantro Lime Marinade | Whole30
Grilled Cilantro Lime Chicken Skewers | Whole30
Pan Seared Salmon Recipe | Whole30
Let's be friends on Pinterest and Instagram or simply sign-up for our Newsletter.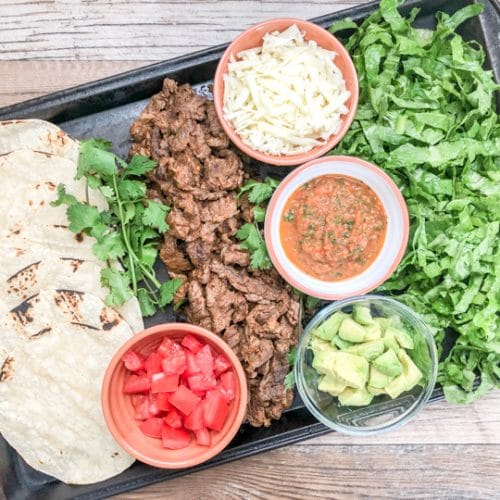 Soft Taco Recipe
The perfect Steak Soft Taco Recipe made with succulent sliced flap meat that's been marinated for added flavor and filled with freshly homemade salsa, avocado, pickled red cabbage and thinly sliced romaine lettuce. This recipe is quick, easy, and low maintenance.
Print Recipe
Pin Recipe
Ingredients
2

tbsp

grapeseed oil

(extra virgin olive oil, canola oil, or vegtabe oil)

1.5

lbs

flap meat

½

tbsp

chili powder

1

tbsp

garlic powder

1

tbsp

onion powder

½

tbsp

smoked paprika

¼

tsp

cayenne pepper

¼

tsp

red chili flakes

½

tbsp

kosher salt

2

tbsp

tomato paste

1

can

low sodium chicken broth
Fixings
1

bunch

romaine lettuce

(sliced)

2

cups

cheese

(your choice sliced or crumbled)

1

red tomato

(diced)

2

avocados

(diced)
Condiments
2

cups

pickled red cabbage

(homemade or store bought)

1

cup

salsa

(homemade or store bought)

2

cups

guacamole

(homemade or store bought)
Instructions
Wash flap meat and pat dry with paper towel. Using kitchen shears or sharp knife thinly cut flap meat against the grain. Season and add to ziploc bag to marinate for 15 to 30 minutes.


While meat is marinating, prep all veggies and if making homemade condiments you can do so now unless you've already prepared them. If not, your favorite store brand condiments work perfectly fine.


Place a large skillet over medium high heat. Add cooking oil (grapeseed oil, extra virgin olive oil, or vegetable oil) to skillet when add flap meat and begin to sear. It's important to cook in batches. This will allow your flap meat to get a nice crust. If you overcrowd the skillet, the flap meat will steam instead of getting a nice crusty brown sear.


After completing each batch, transfer to a plate. In same skillet, add tomato paste and chili powder and stir while cooking for approximately 2 minutes. Slowly add entire can of chicken broth and whisk. Transfer cooked steak to skillet and stir until all combined and simmer for approximately 2 to 4 minutes. Season to taste.


Warm corn tortillas over opened-flame on stove top or warm in a skillet with or without a little cooking oil for about a minute.


Add about ¼ cup of meat to warmed tortillas and top with cheese, lettuce, diced tomato, salsa, guacamole, pickled red cabbage, and avocado, and other fixings of your choice


Serve & enjoy.

Notes
**Please note: Nutritional values serve as a guide only as values may vary.
Nutrition
Calories:
972
kcal
|
Carbohydrates:
31
g
|
Protein:
59
g
|
Fat:
72
g
|
Saturated Fat:
22
g
|
Cholesterol:
166
mg
|
Sodium:
1925
mg
|
Potassium:
2085
mg
|
Fiber:
17
g
|
Sugar:
5
g
|
Vitamin A:
2175
IU
|
Vitamin C:
25.9
mg
|
Calcium:
481
mg
|
Iron:
5.9
mg