This Turkey Neck Recipe consists of delicious tasting turkey necks braised in chicken broth until fall off the bone fork tender and laid on a bed of creamy mashed potatoes.

Turkey necks have dark meat which makes them so flavorful and juicy. Even with that being said, it's no surprise that turkey necks aren't talked about much and are simply underrated. In spite of this, when cooked properly the end result is always fork tender meat.
Ingredients
Turkey necks
Grape-seed oil or other cooking oil
Cajun spice blend
Kosher salt
Yellow onion
Fresh garlic
Essentials
Dutch oven or other oven proof skillet
How long do you cook the neck of the turkey
Before braising turkey necks, I recommend adding a little cooking oil to your dutch oven or oven-safe skillet and sear or brown the turkey necks for approximately 8 minutes on both sides.
The process of braising turkey necks in the oven, require between 1 hour and 50 minutes to 2 hours of cooking time for the most delicious fork tender meat.
How do you clean turkey necks
You can clean turkey necks like you would any other raw meat by simply rinsing under cool water. It's important to follow safety guidelines when handling any type of raw meat in order to prevent cross contamination and/or any foodborne illnesses.
Best way to cook turkey necks
Wash under cool water and pat dry with paper towels
Season liberally with kosher salt and a Cajun spice blend (alternatively, you can season with any of your favorite seasonings)
Add cooking oil to the dutch oven and sear both sides of the turkey necks then place on a clean plate and set aside
In the same dutch oven, saute the onions and minced garlic until fragrant
De-glaze with chicken broth, add the turkey necks back to the dutch oven, cover with the lid and place in the oven to braise for 1 hour and 50 minutes to 2 hours
Serve over a bed of my Herb Garlic Mashed Potatoes or rice and enjoy!!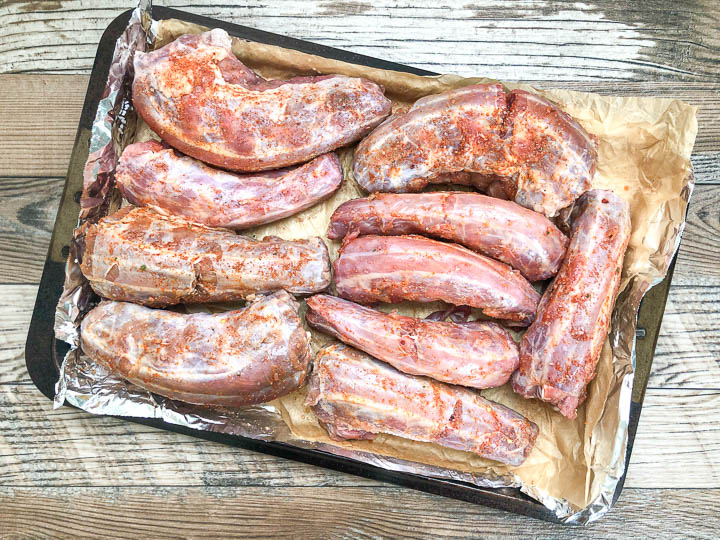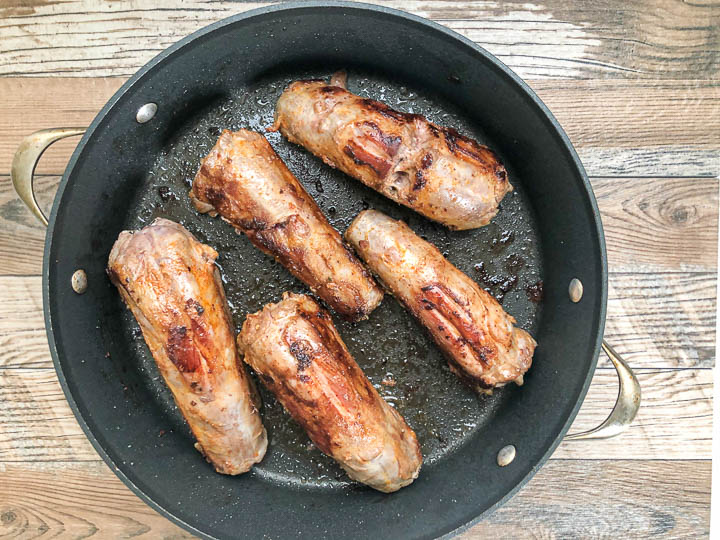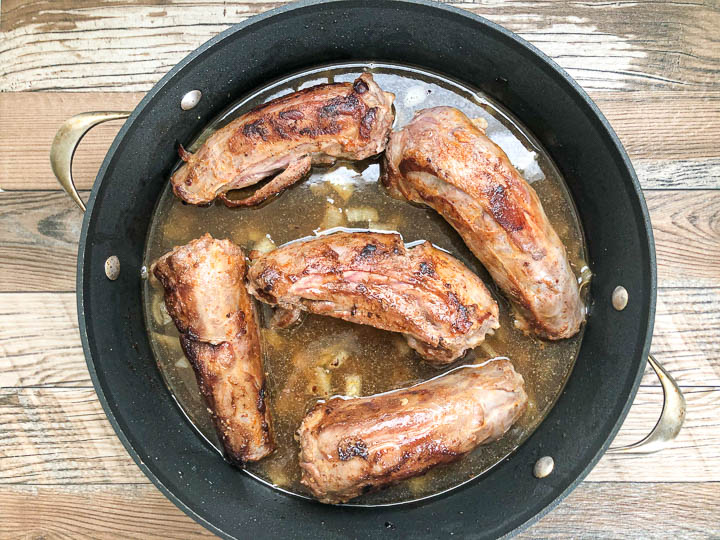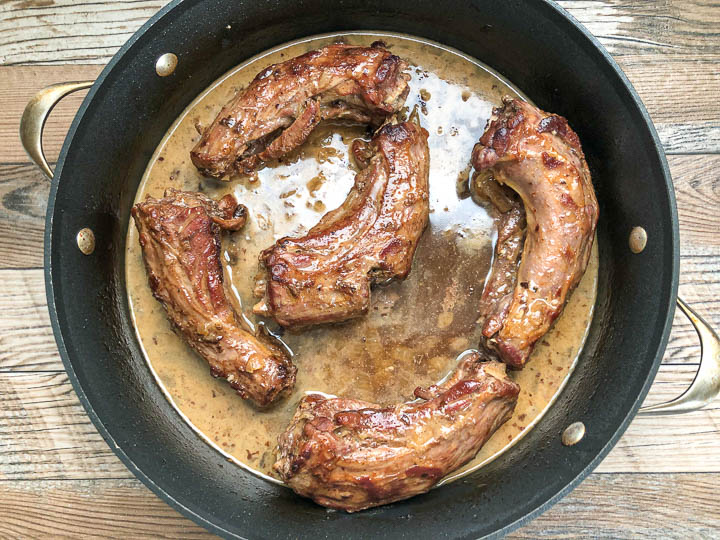 Other ways to serve turkey necks
Smoked Turkey Necks: Sure, you can smoke turkey necks on your own if you have a smoker. I do not. So, if I need smoked turkey necks for a recipe, I'll go straight to my local grocery store and purchase them there and that's it... easy and done. By the way, if you purchase them from the grocery store, they are fully cooked.
Smoked turkey necks are perfect for adding amazing flavor to collard greens, mustard greens, beans, stews or chilies.
Creamy Turkey Neck Soup: Will be coming to the blog in the very near future. It's an all around comfort food with delicious tender turkey necks in a creamy based soup.
Smothered Turkey Necks: Turkey necks are perfect for creating a smooth and luscious homemade gravy. Similar to this turkey neck recipe, smothered turkey necks are amazing over rice or a bed of mashed potatoes.
How to store and reheat
Store leftover turkey necks along with the pan juices in an airtight container and place in the fridge for up to 3 days.
When you're ready to reheat, remove the turkey necks from the fridge and place in an oven-safe skillet or dutch oven. Place in a 375 degree preheated oven until warm throughout. This may take about 20 minutes.
Recipe Tips
After washing the turkey necks, pat them completely dry with paper towels
Sear or brown them in a dutch oven or oven-safe skillet first before braising
Season generously
For the most tender turkey necks, they should be braised in some sort of liquid such as water or chicken broth (chicken broth adds more flavor than just water)
You may also like these other turkey recipes
Butter Herb Roasted Turkey Recipe
Connect with me on Instagram and Pinterest for more recipe ideas.
Thanks for visiting,
~Cree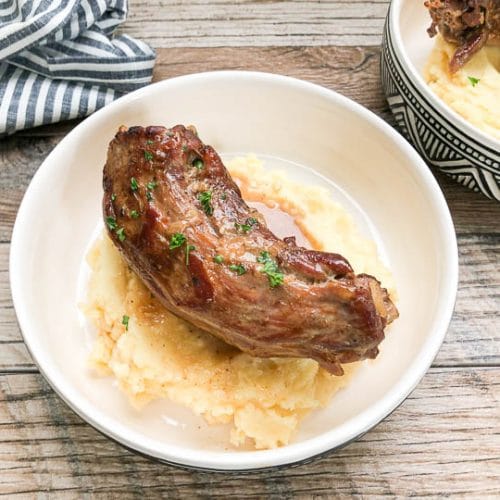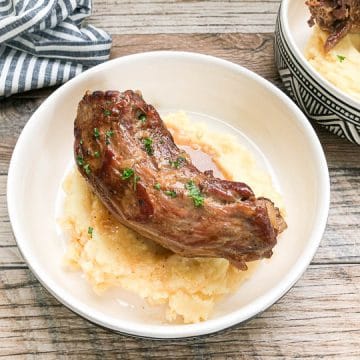 Ingredients
5

lbs

turkey necks

1

tbsp

kosher salt

1

tbsp

Cajun spice blend

2

tbsp

grape-seed oil

29

oz

low sodium chicken broth

(2-14.5 ounce cans)

½

onions

(chopped)

4

garlic cloves

(minced)
Instructions
Preheat oven to 350 degrees.

Wash turkey necks and pat dry with paper towels and season with kosher salt and Cajun spice blend.

Add cooking oil to dutch oven or oven-safe skillet and place over medium-high heat. Place turkey necks in dutch oven and sear or brown both sides for about 8 minutes. After searing, place turkey necks on a clean plate. Set aside.

In the same dutch oven, add more oil if necessary then saute onions and minced garlic until fragrant. De-glaze with chicken broth and add additional broth. Add browned turkey necks back to dutch oven and cover with lid. Place in the oven and cook for 1 hour and 50 minutes to 2 hours.

Remove from oven and serve over a bed of rice or mashed potatoes. Spoon pan juices over the top and enjoy.
Notes
Recipe Tips
After washing the turkey necks, pat them completely dry with paper towels
Sear or brown them in a dutch oven or oven-safe skillet first before braising
For the most tender turkey necks, they should be braised in some sort of liquid such as water or chicken broth (chicken broth adds more flavor than just water)
Nutrition
Calories:
804
kcal
|
Carbohydrates:
2
g
|
Protein:
98
g
|
Fat:
42
g
|
Saturated Fat:
10
g
|
Cholesterol:
652
mg
|
Sodium:
3127
mg
|
Potassium:
931
mg
|
Sugar:
1
g
|
Vitamin A:
244
IU
|
Calcium:
144
mg
|
Iron:
6
mg