Updated: 11/11/19
This simple 7-ingredient homemade Vanilla Pudding Recipe will soon become your family's favorite go-to dessert. It's velvety texture is light, creamy and oh so delicious. Serve this pudding alone or layer with vanilla wafers- the possibilities are limitless. I guarantee it will definitely have you coming back for more.
This vanilla pudding recipe is my family's all-time favorite and is also a crowd-pleaser. It's perfect as a make-ahead dessert or easy enough to make on the spare of the moment. Once you make this homemade pudding, you will not go back to instant boxed pudding... and why should you. I'm pretty certain that the ingredients needed for this vanilla pudding recipe are already in your pantry.
WHAT IS VANILLA PUDDING MADE OF
Vanilla pudding is made of 7 simple ingredients:
All purpose flour (as a thickener)
Sugar
Salt
Milk (Whole, 2% or 1%)
Eggs
Vanilla Extract
Butter (for added richness)
HOW TO MAKE VANILLA PUDDING
Dry Ingredients:
To a pot add all purpose flour, sugar, salt and whisk
Wet Ingredients:
To a mixing bowl, add egg yolks and lightly whisk add milk and whisk until incorporated
Combine Ingredients:
Slowly add wet ingredients to dry ingredients while whisking all ingredients in the pot (THIS STEP IS IMPORTANT TO PREVENT THE MIXTURE FROM GETTING LUMPY)
Create Double Boiler:
Place the pot inside of a large skillet and add water to the skillet (DO NOT ADD WATER TO THE POT THAT HAS THE VANILLA PUDDING MIXTURE)
Place double boiler over medium heat and begin whisking
Cooking time
Cook mixture while stirring continuously until pudding begins to thicken and becomes velvety in texture (THIS MAY TAKE APPROXIMATELY 20 - 25 MINUTES)
Remove pudding from heat and add butter and vanilla extract and swirl pudding until butter has melted
Layer casserole dish with vanilla wafers and place in fridge to chill
Top with whipped topping or meringue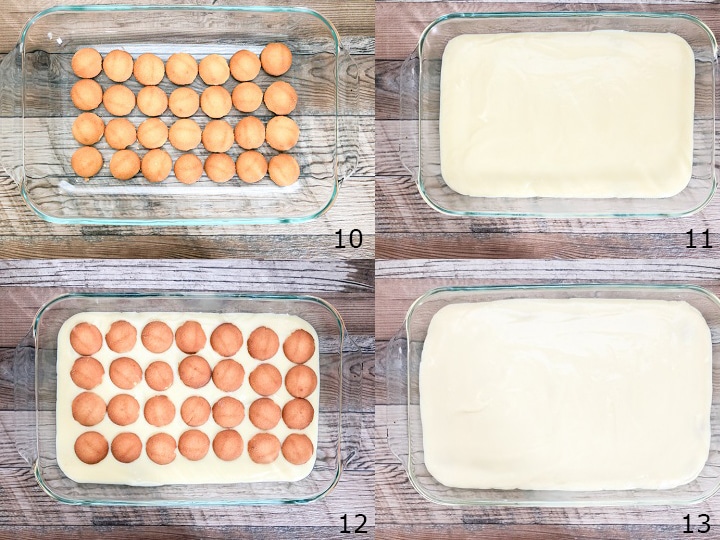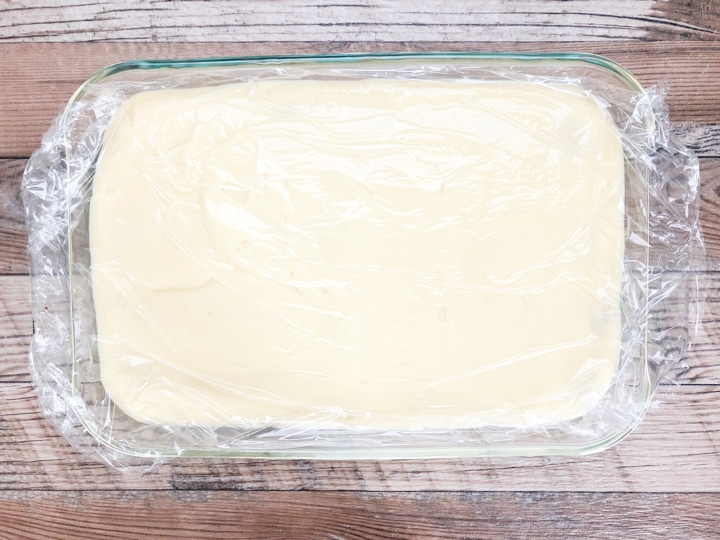 HOW LONG DOES IT TAKE PUDDING TO SET
Once you've transferred the vanilla pudding from the double boiler to a casserole dish or other vessel, place it in the refrigerator to set for at least 45 minutes. However, if you prefer serving your pudding while it's a tad bit warm, allow it to refrigerate for about 30 minutes.
HOW LONG DOES VANILLA PUDDING LAST
Vanilla pudding should last up to 4 days in the fridge covered with plastic wrap or a tight fitting lid.
I wouldn't recommend freezing this vanilla pudding as the freezing then thawing could result in the creamy texture breaking down and becoming thin and watery.
I hope you enjoy this recipe as much as we do. If you make this recipe, I'd love to read what you think in the comment section below.
If you like this dessert recipe, also check out these Super Soft Peanut Butter Cookies or even these Key Lime Cheesecake Parfaits and with the warmer weather brings Strawberry Shortcake Parfaits.
Let's be friends on Pinterest and Instagram.
Thanks for visiting.
~Cree
📖 Recipe
Vanilla Pudding Recipe
This simple 7-ingredient homemade Vanilla Pudding Recipe will soon become your family's favorite go-to dessert. It's velvety texture is light, creamy and oh so delicious. Serve this pudding alone or layer with vanilla wafers- the possibilities are limitless
Print Recipe
Pin Recipe
Ingredients
Dry Ingredients
1-½

cups

all purpose flour

2

cups

sugar

½

teaspoon

salt
Wet Ingredients
12

egg yolks

8

cup

milk

(whole, 2%, 1%)

1

teaspoon

vanilla extract

1

tablespoon

butter
Instructions
Add 1 cup of water to measuring cup. Set aside.


Use a pot big enough to hold all ingredients. Add dry ingredients to pot and whisk. In a mixing bowl add egg yolks and whisk, add milk to egg yolks and whisk again. Add egg mixture to dry ingredients and whisk until well combined.


Create a double boiler by placing the pot with all the ingredients inside of a sauce pan that can accommodate the pot. Place double boiler on stove over medium heat. Pour water into the sauce pan of the double boiler and place over medium heat.


While mixture is cooking, whisk vigorously to eliminate clumping. Alternate stirring with whisk and wooden spoon for 25 minutes until pudding start to thicken. Remove from heat and add vanilla wafers and butter and stir again with wooden spoon.


Place vanilla wafers into casserole dish in a single layer. Pour pudding mixture over first layer of vanilla wafers. Place a second layer of vanilla wafers and more pudding.


Place plastic wrap over pudding pressing gently so the saran wrap comes in contact with the pudding. Place casserole dish in fridge to cool completely. After 45 minutes or longer, place whipped topping on top of pudding. It's important that your pudding is cooled completely so your whipped topping does not run. Serve immediately and enjoy.


Feel free to garnish your pudding with crushed vanilla wafers if you choose,

Notes
**Please note: Nutritional values serve as a guide only as values may vary.
It's important to whisk and stir the entire time the pudding mixture is cooking on the stove.
If you find lumps once the pudding has thickened, run through a sieve to remove any lumps.
SEE STEP 7  - You will know that your pudding has reached the correct consistency (thickness) when the back of your wooden spoon is well coated. If you run your finger along the back side of the spoon, it should leave a clean streak.
This recipe was inspired by my grandmother who was inspired by Nilla's Banana Pudding Recipe.
Nutrition
Calories:
471
kcal
|
Carbohydrates:
68
g
|
Protein:
12
g
|
Fat:
16
g
|
Saturated Fat:
8
g
|
Cholesterol:
321
mg
|
Sodium:
276
mg
|
Potassium:
359
mg
|
Fiber:
0
g
|
Sugar:
62
g
|
Vitamin A:
830
IU
|
Calcium:
311
mg
|
Iron:
1.2
mg