Braised Brisket marinated in a flavorful Cajun spice blend and cooked low and slow until fork tender then basted with the delicious pan juices.
This brisket recipe is so simple to make and is perfect for feeding a crowd. If you've never served brisket, now is your time with the holiday season just around the corner. It's a great make ahead recipe and taste even better the next day which I highlight down below.
Beef brisket rub
Cajun spice blend (homemade or store bought)
Kosher salt
Cumin
Essentials
Dutch oven or other heavy bottom oven safe skillet
Tight fitting lid or aluminum foil
How to make braised beef brisket
Braised beef brisket is really simple and only requires a few key steps for perfectly tender brisket each and every time. I've highlighted the steps but please refer to the recipe card down below for all the details.
Wash the brisket and pat it dry with paper towels
Remove any noticeable excess fat while keeping the fat cap intact
Season both sides liberally with the beef brisket dry rub, kosher salt and some cumin
Cover with plastic wrap and allow the brisket to marinate
Sear
Add the braising liquid
Place in the oven to cook low and slow
How long does brisket take to braise
The oven temperature and weight of the brisket will ultimately determine the appropriate time needed to braise brisket.
Braising a 3 pound brisket at 330 degrees for 3 hours will result in the most delicious and tender beef brisket.
The size of the brisket, oven temperature, and cooking time play a critical role in properly braising brisket. When braising brisket, I would say between 1 to 1-½ hours per pound of brisket. This seems to be the sweet spot. If you have a technique that you use, please share it in the comments section below.
Tips
Before searing, make sure the brisket is completely dry as this will ensure a nice brown crusting coating
Marinate for at least 3 hours up to 24 hours for maximum flavor
Do not trim the fat cap as this will baste the meat to add incredible flavor and will keep the brisket from becoming dry
First, sear with the 'fat cap down' (the fatty side) then flip over
Before you begin to put the brisket in the oven to braise make sure the fat cap side is up as the fat drippings enhances flavor
Allow the brisket to rest, when it's done to retain its juices
If you do not have a tight fitting lid, cover the dutch oven or heavy bottom skillet securely with aluminum foil and use more than one sheet of foil to ensure that moisture doesn't seep out
How to cut brisket
You'll need a:
Cutting board preferably with juice grooves
Sharp chef's knife
When cutting or slicing brisket, it's important to cut against the grain. Cutting against the grain will allow for a good mouth feel and tenderness. Otherwise, you'll be left with stringy tough slices if not cut properly.
Let's start cutting:
Place your well rested brisket on the cutting board
Gently place one hand on top of the brisket and using your other hand, begin slicing against the grain into ¼ inch slices
Slice the amount you will need to serve your family or friends and use the pan juices to spoon over the top of the slices
What to serve
Serve with Herb Garlic Mashed Potatoes, rice, or Oven Roasted Potatoes. The possibilities are endless. Brisket is also great with Crispy Oven Roasted Broccolini, a crisp green salad like this Vegetable Salad, Roasted Beets, sauteed kale or spinach would be great side dishes as well.
Storing and Freezing
Storing
When storing leftover brisket, place it in a ziploc baggie or in an airtight container such as glassware or tupperware and store in the fridge for up to 3 days.
When it's time to serve, cut it against the grain if you haven't already done so, and place the slices in a pyrex dish or on a baking sheet and cover with aluminum foil then place in a 375 degree preheated oven until warm.
Braised brisket freezes really well. To freeze, place the brisket in a freezer safe ziploc bag or airtight container store in the freezer for up to 3 months.
Freezing
When ready to serve, allow the brisket to thaw in the fridge overnight. When thawed, cut it into slices going against the grain as described above then place in a pyrex dish or baking sheet and cover with aluminum foil and place in a 375 degree preheated oven until warm.
Can you make braised brisket ahead
Braised brisket can definitely be made the day before in fact it's even better the next day as the flavor has had time to develop and really come together.
Making brisket ahead is perfect for serving on Thanksgiving, Christmas, Easter, birthdays, or other holidays or special occasions.
You may also like
For more recipe ideas and inspiration, be sure to connect with me on Instagram and Pinterest.
Thanks for visiting,
Cree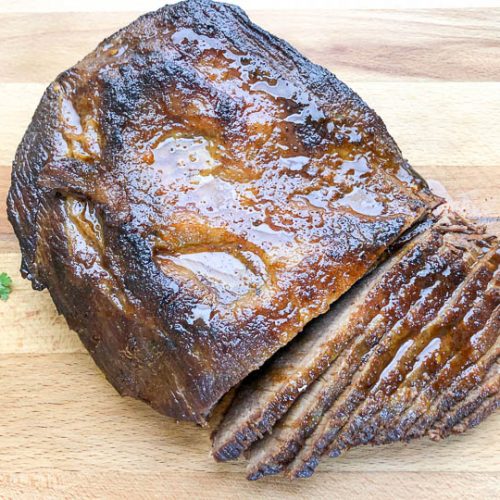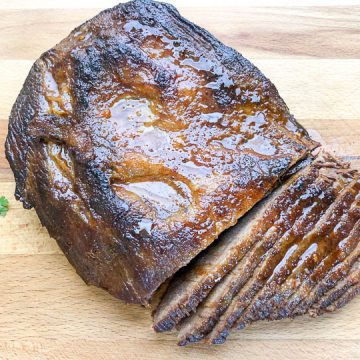 Tender Braised Brisket
Beef Braised Brisket marinated in a flavorful Cajun spice blend and cooked low and slow until fork tender then basted with the delicious pan juices.
Print Recipe
Pin Recipe
Equipment
Dutch oven with a lid or heavy bottom pot with a lid
Ingredients
3

lb

beef brisket

½

tbsp

Cajun spice blend

(homemade or store bought)

½

tbsp

kosher salt

½

tsp

cumin

1-½

cups

low sodium chicken broth

2

tbsp

grape-seed oil
Instructions
After marinating the brisket, preheat oven to 330 degrees.

Wash and pat dry with paper towels.

Add dry rub and marinate for at least 3 hours up to 24 hours. After marinating, allow the brisket to come to room temperature by placing on counter top.

At grape-seed oil or other cooking oil to dutch oven and when hot, place the brisket with fat cap side down and sear for 5 minutes or until brown crusty coating develops. Flip the brisket now and sear the other side. Then, place brisket on a clean plate and set aside.

Deglaze the dutch oven by pouring in the chicken broth being sure to scrape up the brown bits (this creates tons of flavor).

Add the brisket back to the dutch oven with the fat cap side up and place the lid on the dutch oven. Having the fat cap side up will allow the fat to drizzle down basting the brisket. This also adds tons of flavor. Place the brisket in the oven to braise for 3 hours. Half way through the cooking time, use the pan juices to baste the brisket then place the lid back on and place back into the oven to braise.

When done, place the brisket on a wooden cutting board to rest for 15 minutes. Tear aluminum foil large enough to loosely tent over the brisket.

Spoon pan juices over the top and cut brisket into ¼ inch thick slices. Place slices on a platter and spoon more ofthe pan juices of the top of the slices and serve.
Notes
Tips:
Before searing, make sure the brisket is completely dry as this will ensure a nice brown crusting coating
Marinate for at least 3 hours up to 24 hours for maximum flavor
Do not trim the fat cap as this will baste the meat to add incredible flavor and will keep the brisket from becoming dry
First, sear with the 'fat cap down' (the fatty side) then flip over
Before you begin to put the brisket in the oven to braise make sure the fat cap side is up as the fat drippings enhances flavor
Allow the brisket to rest, when it's done to retain its juices
If you do not have a tight fitting lid, cover the dutch oven or heavy bottom skillet securely with aluminum foil and use more than one sheet of foil to ensure that moisture doesn't seep out
Nutrition
Calories:
398
kcal
|
Carbohydrates:
1
g
|
Protein:
47
g
|
Fat:
22
g
|
Saturated Fat:
6
g
|
Cholesterol:
141
mg
|
Sodium:
767
mg
|
Potassium:
779
mg
|
Fiber:
1
g
|
Sugar:
1
g
|
Vitamin A:
287
IU
|
Calcium:
11
mg
|
Iron:
5
mg