Learn the simple process on 'How to Steam Clams'.  From the cleaning process to the steaming process, this easy to follow step-by-step tutorial is all you need to create perfectly tender steamed clams.
HOW DO YOU PREPARE CLAMS FOR STEAMING
Before you begin steaming clams, you must first go through the process of thoroughly cleaning your clams.  Although there are many videos on how to clean clams; I'll walk you through a simple process for getting perfectly clean clams.
Prepping live clams before steaming them can seem like a daunting task, but I'm here to tell you that it doesn't have to be.  Once you learn this simple process, you'll bless your family and friends with clam recipes more often.
ESSENTIALS NEEDED FOR PREPARING CLAMS FOR STEAMING
Let's start by gathering all the essentials:
A large bowl (possibly 2) or you can use your kitchen sink instead of a 2nd bowl
A clean chemical-free scrub brush (used for also cleaning the outer surface of the clams)
Water (used for soaking)
Salt (used to mimic salt water)
HOW DO YOU GET THE SAND OUT OF CLAMS BEFORE STEAMING
Cleaning clams is the most important step before steaming them.  This requires patience but is very simple to do. Here, I'll provide an overview; however, please refer to the recipe card below for more details.
This process will require 3 rounds of soaking your clams for 20 minutes, so here we go:
Discard any opened clams
If you find that some clams are slightly opened, tap on the clam to see if it closes immediately (if the clam doesn't close discard it).  This is an indication that it is dead.
Place clams into a large bowl (alternatively,  clean out your sink and place them in your sink).  I like to use my sink.
Cover the clams with water and add a few tablespoons of salt (the salt is intended to mimic salt water).  Using your hand, give the water a big swirl.
Round 1 – Soak the clams for 20 minutes, after 20 minutes, remove the clams from the sink/bowl and place clams into a clean empty bowl (TIP: Lift the clams out of the water using your hands and place them into a clean bowl)
Empty the sink/bowl used for soaking and replace with fresh water and salt
Round 2 – Repeat Round 1

Round 3 – Put clams back in bowl with fresh water and salt and scrub outer surface using scrub brush
Repeat Round 1

Give clams a final rinse
HOW TO STEAM CLAMS WITHOUT WINE (STEP BY STEP)
After thoroughly cleaning your clams, now it's time to steam them.  This is the fun part and requires literally a few minutes and minimal ingredients.
It's worth noting that you can steam your clams in white wine or water either form of liquid will work.  In this recipe, I will use water to keep the recipe Whole30.
Saute minced garlic until fragrant
Cover the bottom surface of a large saucepan with water
Gently place clams in the saucepan into a single layer (DO NOT OVERLAP)
Place lid on saucepan and allow the clams to steam for 3 to 5 minutes (you'll hear the clams starting to open)
Drizzle Cajun marinade and fresh lime juice over opened clams
Garnish and Serve
This easy 6 step process on how to steam clams with the most flavorful Cajun marinade is that simple and makes for the most tender and delicious clams.
CLEAN CLAMS
SAUTE GARLIC IN GRAPESEED OIL OR EVOO
ADD WATER & CLAMS TO SAUCEPAN COVER WITH LID & STEAM 3 TO 5 MINS FOR CLAMS TO OPEN
DRIZZLE CAJUN MARINADE & LIME JUICE OVER CLAMS AND GIVE A BIG STIR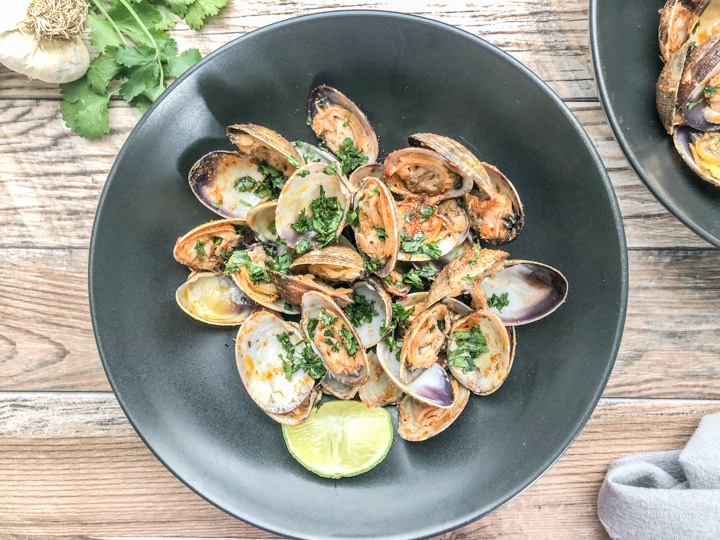 GARNISH WITH CHOPPED CILANTRO & SERVE
DELISH !!!!!!
If you're looking to take your steamed clams to the next level, you gotta add this Cajun inspired marinade to the mix.  This flavorful blend is all you need to enhance the taste of this restaurant-worthy clam recipe.  It's made with:
Grapeseed oil
Garlic powder
Onion powder
Dried thyme
Cayenne pepper
Red pepper flakes
Smoked paprika
Cumin
Dash of salt
After you've steamed your clams, drizzle the Cajun marinade over all the steamed clams and give a big stir making sure all the clams are coated. You can top off your steamed clams with a splash of fresh lime juice for brightness and chopped cilantro for freshness.
Looking for other seafood recipes?  Check out these:
Whole30 Seafood Recipes
Chicken Sausage Shrimp Gumbo | Whole30 Friendly
Pan Seared Salmon Recipe | Whole30
Non-Whole30 Recipes
White Wine Lemon Garlic Shrimp Pasta
Let's connect on Instagram and Pinterest.
Click here to sign up for our Newsletter.
Thanks so much for visiting.
How to Steam Clams
Learn the simple process on 'How to Steam Clams'. From the cleaning process to the steaming process, this easy to follow step-by-step tutorial is all you need to create the perfectly tender steamed clams.
Keyword:
appetizer, cajun clams, easy, healthy, seafood, white wine
Ingredients
Steam Clams
5

lbs

fresh clams

1/2

cup

water

maybe more depending on size of saucepan
Cajun Marinade
1/4

cup

grapeseed oil

(or extra virgin olive oil)

1

tbsp

cumin

2

tsp

dried thyme

1

tbsp

garlic powder

1

tbsp

onion powder

1

tbsp

smoked paprika

2

tsp

cayenne

adjust the amount depending on your spice level

2

tsp

chili flakes
Instructions
Removing Sand from Clams
Check that all clams are closed. If clams aren't closed, gently tap to see if they close. If they do not close, discard.


In large bowl or clean kitchen sink, fill with water. Add salt and give a swirl. Gently place clams in water for 20 minutes. After 20 minutes, remove clams with hands and place in an empty clean bowl. Pour dirty water out of 1st bowl or if using sink, drain water from sink and replace with clean water and salt.


Place clams back in bowl or sink with fresh water and salt. Using a clean scrub brush (ONE THAT'S TOTALLY FREE OF ANY CHEMICALS), brush the outer surface of each clam THEN REPEAT STEP 2.

How to Steam Clams
Over medium high heat add grapeseed oil to sauce pan. Add garlic and saute until fragrant. Add water/wine to cover bottom of sauce pan.


Add clams in a single layer. Cover sauce pan with lid and steam for 3 to 5 minutes until clams open. Remove from heat and discard any unopened clams. Add Cajun marinade to clams, add fresh lime juice and give a stir until all clams are coated.


Garnish with cilantro and serve immediately.

Recipe Notes
**Please note: Nutritional values serve as a guide only as values may vary.
When adding clams to sauce pan, make sure clams are in a single layer.  DO NOT ADD CLAMS ON TOP OF EACH OTHER AS THIS MAY PREVENT CLAMS ON THE BOTTOM FROM OPENING.
DO NO OVERCOOK CLAMS AS THIS WILL CAUSE THEM TO BECOME RUBBERY.
Nutrition Facts
How to Steam Clams
Amount Per Serving
Calories 225
Calories from Fat 135
% Daily Value*
Fat 15g23%
Cholesterol 25mg8%
Sodium 536mg23%
Potassium 189mg5%
Carbohydrates 9g3%
Protein 13g26%
Vitamin A 1825IU37%
Vitamin C 1.3mg2%
Calcium 71mg7%
Iron 3.8mg21%
* Percent Daily Values are based on a 2000 calorie diet.