Turkey Enchilada Casserole, an easy and incredibly cheesy dish that's perfect for those busy weeknights. Believe it or not this Turkey Enchilada Casserole is made with a few simple ingredients that you may already have in your pantry or fridge. This recipe starts with flavorful ground turkey that is browned and seasoned to perfection. From there layers of corn tortilla, enchilada sauce, ground turkey and mozzarella cheese are built to make this the ultimate enchilada casserole.
This dish is perfect for a family of any size and is perfect for feeding a crowd. It's hassle-free and clean-up is a breeze. Dishes like this make weeknight dinners stress-free and more enjoyable for everyone. I've been happy to incorporate this turkey enchilada casserole into our weekly dinner rotation. It's not only delicious, but dinner is on the table in 45 minutes or less.
It also makes for great leftovers, lunch for the next day, and a make ahead meal.
Recipe Ingredients
Corn tortillas (yellow or white I prefer the white)
Enchilada sauce (I use my favorite store brand)
Cooking oil (grape-seed oil, extra virgin olive oil or other cooking oil)
Mozzarella cheese (Mexican blend or any combination of a really good melting cheese)
Toppings (chopped cilantro, sliced black olives, sliced green onion, sour cream) optional
Turkey Filling
Ground turkey
Kosher salt
Black pepper
Garlic powder
Onion powder
Cumin
Chili powder
Low sodium chicken broth
How to make enchilada casserole
First, have all your ingredients out on your countertop and prepped in order to work in a more organized and efficient way. Also, prepare a casserole or baking dish by rubbing a thin layer of butter on the inside to prevent sticking.
Brown your filling: Add cooking oil to a skillet and place over medium high heat. Add the ground turkey, seasonings, and brown the meat just until no longer pink. Do not overcook. Taste test and add more seasoning if needed. Set aside for layering.
Begin layering: In this order - Enchilada sauce, tortillas, enchilada sauce, turkey meat, cheese, tortillas, enchilada sauce, turkey meat, cheese, tortillas, enchilada sauce, cheese, sliced black olives.
Bake: Cut a piece of foil that's large enough to cover the baking dish and lightly spray with cooking spray and cover the baking dish. Spraying the foil with cooking spray will prevent the cheese from sticking to the foil during baking. Bake covered until cheese begins to bubble. After, remove foil and continue baking for 5 or so minutes.
Garnish: Sprinkle chopped cilantro and/or top with sour cream, chopped avocado, or other delicious toppings.
There you have it... a perfect weeknight dinner.
Here's a step by step illustration of the layering process: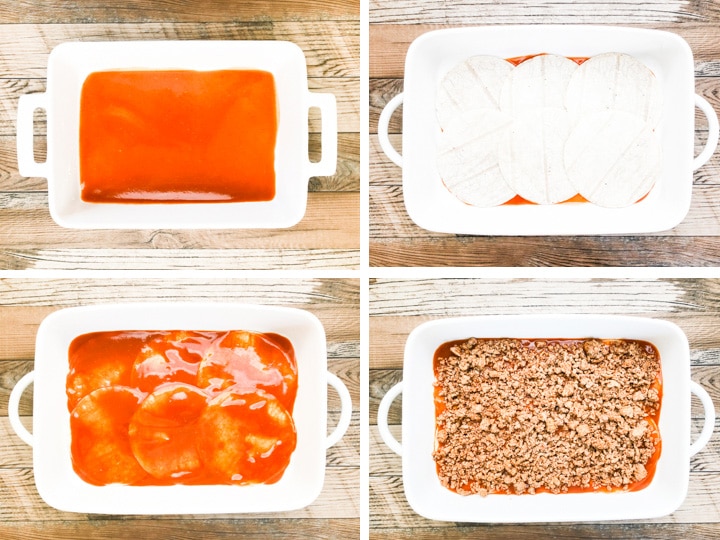 What goes with turkey enchilada casserole
Have fun and be creative with the ingredients you choose for your turkey enchilada casserole. You can keep it simple as I did or add other ingredients to cater to you and your family's taste. Here are some ideas:
Add a layer of black or pinto beans before laying in the meat
Instead of mozzarella cheese choose your favorite cheese blend
Top with pico de gallo
Top with guacamole or chopped avocado with a dollop of sour cream
Accompany with a simple green salad with a light vinaigrette for freshness
As you can see, this casserole is very simple and quite versatile and is perfect for weeknight dinners. I highly recommend you give it a try. We can all attest that weeknight dinner should be easy, simple, delicious and hassle-free.
What temperature to bake enchilada casserole
Whether you're baking traditional enchiladas or enchilada casserole, bake at 400 degrees Fahrenheit until the cheese melts and is nice and is bubbling throughout.
However, prior to baking, cover the casserole with foil to prevent the cheese on top from baking faster than the inside of the casserole.
How long should I reheat a casserole
This enchilada casserole makes for great leftovers and is really easy to reheat. I'm not a fan of warming food in the microwave but if this is the only option available then go for it.
If I'm reheating a single serving I always:
Cut a serving from the casserole dish and wrap in a large piece of foil that's been lightly sprayed with cooking oil
Place in a preheated oven at 375 degrees until hot
Unwrap the foil and place the heated casserole on a plate
If I'm I'm reheating enough for the entire family, I'll reheat the entire casserole in its original baking dish:
I will take the casserole from the fridge and place on the counter until it reaches about room temperature
Cover the baking dish with foil that has been lightly sprayed with cooking spray
Place in a preheated 375 degree oven until hot throughout
Planning to meal prep
Brown your protein of choice and place in an airtight container
Grate the cheese using a box grater and store in a separate airtight container
Keep other ingredients (enchilada sauce, tortillas, black olives) in its original packages and make sure they are easily accessible
The next day, prepare the baking dish, assemble the casserole, and bake
Recipe Tips
Use a different protein (cooked beef, chicken, or pork)
Grate the cheese yourself (do not use prepackaged shredded cheese it doesn't melt well at all)
Add a generous amount of enchilada sauce to the layers (don't be shy) this will prevent the casserole from drying out especially if you plan on having leftovers the next day
For crispy edges, place under the broiler for a few minutes after it's done (do not walk away from the oven this browning process happens quickly
Can be stored in the refrigerator for up to 3 to 4 days
I really hope you enjoy this quick and easy turkey enchilada casserole for your next weeknight dinner.
You may also like:
Hey, let's be friends. Let's connect on Instagram and Pinterest.
📖 Recipe
Turkey Enchilada Casserole
Turkey Enchilada Casserole starts with flavorful ground turkey browned and seasoned to perfection with layers of corn tortilla, enchilada sauce, ground turkey and mozzarella cheese are built to make this the ultimate enchilada casserole.
Print Recipe
Pin Recipe
Ingredients
3

lbs

ground turkey

(ground beef, chicken, or pork)

1-½

tablespoon

kosher salt

1

teaspoon

black pepper

2

teaspoon

granulated garlic powder

2

teaspoon

onion powder

1

teaspoon

cumin

3

tablespoon

chili powder

1-¾

cups

low sodium chicken broth

28

oz

enchilada sauce

(one 28 ounce can store bought enchilada sauce)

18

white corn tortillas

(or yellow corn totillas)

3

cups

mozzarella cheese

(cheddar, a combination, or a melting cheese of your choice)

1

can

sliced black olives

((optional))
Instructions
In a skillet over medium high heat, brown turkey meat until no longer pink

Add all seasoning, mix, pour in chicken broth and stir until combined. Allow to simmer for 5 minutes. Taste and adjust seasoning.

Prep casserole or baking dish by greasing the inside with butter

Pour ½ to ¾ cups of enchilada sauce to bottom of baking dish. Start layering beginning and ending top layer with corn tortillas. Add layer of corn tortillas, add enchilada sauce, add meat mixture, add cheese, and REPEAT the layering process whereby the very final layer is top with with cheese.

Place a loosely piece of foil paper over the top that has been lightly sprayed with cooking oil

Place in preheated oven at 400 degrees until cheese has melted and is bubbling. After 30 minutes, check to make sure casserole is heated through. Remove foil and continue baking for an additional 3 or so minutes.
Notes
**Please note: Nutritional values serve as a guide only as values may vary.
Cover enchilada casserole using foil paper that has been lightly sprayed with cooking spray (this will prevent the foil from sticking to the cheese when baking)
Use a different protein (cooked beef, chicken, or pork)
Do not use prepackaged shredded cheese it doesn't melt well at all instead grate the cheese yourself using a box grater
Do not slack on the enchilada sauce add a generous amount to the layers this will prevent the casserole from drying out especially if you plan on having leftovers the next day
After the casserole has baked for the appropriate amount of time, place under the broiler for a few minutes for a slightly brown top and crisp edges
Refrigerate for up to 3 to 4 days
Nutrition
Calories:
757
kcal
|
Carbohydrates:
53
g
|
Protein:
74
g
|
Fat:
30
g
|
Saturated Fat:
10
g
|
Cholesterol:
169
mg
|
Sodium:
3290
mg
|
Potassium:
971
mg
|
Fiber:
11
g
|
Sugar:
11
g
|
Vitamin A:
2364
IU
|
Vitamin C:
3
mg
|
Calcium:
402
mg
|
Iron:
5
mg