This Healthy Coleslaw recipe is a wonderful make ahead side dish that pairs perfectly with any protein. It's made with fresh shredded green and purple cabbage, and carrots drizzled with a homemade velvety tahini dressing. So simple yet so tasty. This beautiful and vibrant salad is made with just a few simple ingredients and comes together in no time.
More importantly, it's made without mayo for a healthier alternative to traditional coleslaw. Although coleslaw is known as a summer salad, this healthy coleslaw recipe is great for any time of year.
HOW TO MAKE THIS HEALTHY COLESLAW RECIPE
This healthy coleslaw recipe can literally come together in 5 minutes.
Cut the green and purple cabbage heads into fourths removing the spine of each fourth
Using a sharp knife, thinly slice each forth lengthwise (this is how I shred cabbage)
Wash the shredded cabbage and dry thoroughly
Shred the carrots with a box grater or cut into julienne style, matchsticks, or ribbons
Combine all vegetables and season with salt
Drizzle with a healthy version of tahini dressing (making sure the entire coleslaw is lightly coated)
Garnish with sesame seeds for added texture
TIP: If you're in a rush, pre-packaged shredded cabbage and carrots would work as well. This can save you a few extra minutes.
WHAT KIND OF CABBAGE IS USED FOR COLESLAW
For this simple healthy coleslaw recipe, I combine both green and purple cabbage. These two types of cabbages are great when served alone or paired together. They add great texture, and I love how the vibrant color of the purple cabbage makes this such a beautiful and enticing side dish.
If you're looking for another type of cabbage to add to the mix, napa cabbage also known as Chinese cabbage would be a great choice.
IS COLESLAW HEALTHY TO EAT
Absolutely! This coleslaw recipe is definitely healthy to eat... hence this name. It's made without mayo that's typically found in traditional coleslaw. Instead, it's drizzled with tahini dressing for a nice sesame flavor and a modern twist.
When it comes to eating salad, it's important to choose your salad dressing wisely. Aim for dressings that are lighter such as vinaigrette or ones that are made with healthy fats such as avocado or tahini based or even a healthy ranch dressing would be delicious. Even then, it's important to use these types of dressings sparingly.
My point being, do not ruin the nutritiousness of eating salad with rich creamy salad based dressings that are loaded with unhealthy fats.
CAN YOU LOSE WEIGHT EATING COLESLAW
It's no surprise that most vegetables are monumental when it comes to weight loss and this healthy coleslaw recipe is know exception. Again, it's really about being mindful when it comes to dressing your salads.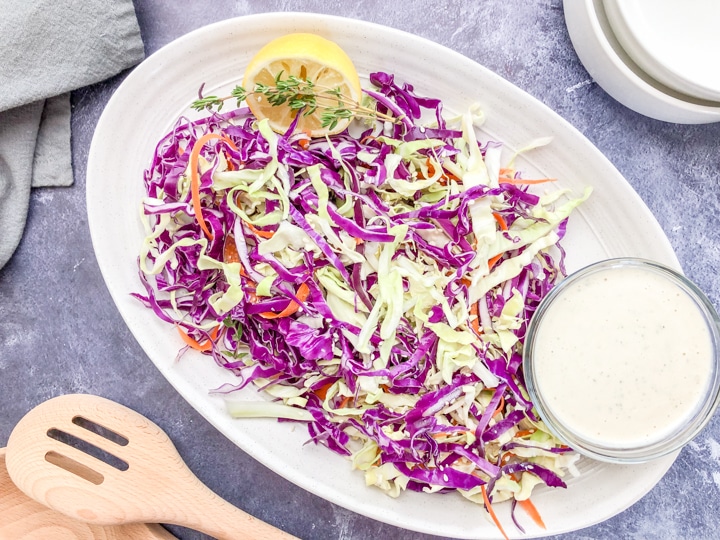 WHAT FOOD GOES GOOD WITH COLESLAW
Of course, BBQ quickly comes to mind when thinking about food that goes good with coleslaw. But, when it comes to protein, the options are limitless. Here, are a few protein options that would pair nicely with this healthy coleslaw recipe to round out your next dinner:
Easy Crispy Oven Baked Chicken Wings
Grilled Cilantro Lime Chicken Skewers
Oven Roasted Butterflied Chicken
I'd love to hear your comments in the comment section below. Don't forget to follow me on Pinterest to see what I'm pinning for a little inspiration or on Instagram.
More importantly, thank you for visiting my blog.
By the way, if you have questions about 'How To' recipes or need tips, please send me an email to: [email protected]
Healthy Coleslaw Recipe (No Mayo)
This Healthy Coleslaw Recipe without mayo is the perfect side dish for serving your family or a crowd. It's simple enough to make on the spur of the moment or as a make-ahead dish. The velvety tahini dressing adds a modern twist to the traditional coleslaw. It's Vegan and Gluten Free. It's so tasty.

Print Recipe
Pin Recipe
Ingredients
Coleslaw
2

cups

green cabbage

(finely shredded)

2

cups

purple cabbage

(finely shredded)

1

cup

carrots

(shredded, cut into matchsticks, or julienne style)

salt

(to taste)

2

tablespoon

sesame seeds

(optional)
Tahini Salad Dressing
2

heaping tbsp

tahini

¼

cup

avocado oil

½

cup

water

(more or less for desired consistency)

1

teaspoon

garlic

2

teaspoon

fresh thyme

1

teaspoon

fresh rosemary

1

teaspoon

fresh chives

kosher salt

(to taste)

fresh lemon juice from half a lemon
Instructions
Tahini Salad Dressing
Add all ingredients to a blender or food processor except oil and water. Secure lid. Drizzle in avocado oil. Then drizzle in water. Season to taste. Pour into a jar with an airtight lid if necessary until ready to use. Set aside

Coleslaw
In a serving bowl, combine green and purple cabbage and carrots. Set aside.


If serving immediately, drizzle tahini salad dressing over coleslaw making sure all is lightly coated. Sprinkle sesame seeds or seeds of your choice over the top (optional).


NOTE: If making ahead, place coleslaw in a bowl with an air tight lid or place in a large zip loc bag and refrigerate until ready to use. Drizzle tahini dressing over coleslaw before serving.

Notes
**Please note: Nutritional values serve as a guide only as values may vary.
Nutrition Fact reflects entire batch of tahini dressing.
If making ahead, place coleslaw in a bowl with an air tight lid or place in a large zip loc bag and refrigerate until ready to use. Drizzle tahini dressing over coleslaw before serving.
Can use pre-shredded cabbage and carrots from the store if you're in a rush.
Nutrition
Calories:
186
kcal
|
Carbohydrates:
9
g
|
Protein:
2
g
|
Fat:
16
g
|
Saturated Fat:
1
g
|
Cholesterol:
0
mg
|
Sodium:
42
mg
|
Potassium:
291
mg
|
Fiber:
3
g
|
Sugar:
4
g
|
Vitamin A:
5895
IU
|
Vitamin C:
40.9
mg
|
Calcium:
88
mg
|
Iron:
1.4
mg