Rice dressing also known as 'dirty rice' is one of the best holiday rice dishes.  Although simple to make and just a few ingredients, this savory dish is packed with awesome flavor.
This rice dressing recipe can be served as a side or on its own.  It's so easy to make and can come together very quickly.  You can serve it with just about anything.
WHAT IS RICE DRESSING
Rice dressing also known as 'dirty rice' is a rice dish that's made with:
Chicken parts such as gizzards
Onions, celery, and bell pepper
Poultry seasoning and kosher salt for flavor
Chicken broth or water to add moisture
Note: Sometime, it's difficult to find a pack of just chicken gizzards.  Most of the time, it's a pack that's combined with both hearts and gizzards.  When this is the case, I use all of the gizzards and a few hearts.
In our family, we typically serve this dish during the holiday season.
HOW TO MAKE RICE DRESSING
Making rice dressing involves just a few simple steps.  I love how fast this recipe comes together.  It requires little effort and is a game changer when you're looking to add another side dish to your holiday spread or an alternative to regular dressing or stuffing.
Steam 3 cups of white rice
Boil chicken gizzards and a few hearts, chop them up and set aside
Chop vegetables: celery, white onion, bell pepper, a bit of fresh garlic
Add butter and grapeseed oil to skillet over medium high heat and saute vegetables until onions become translucent, add chopped chicken gizzards, and seasoning (salt and poultry seasoning) and stir
Add steamed rice to skillet and stir gently to combine all ingredients.  Taste and adjust seasoning to your liking.
Serve hot and enjoy
Scroll down to the recipe card to see the ingredient measurements.
It's that simple.  You can have a delicious side dish on your table in under 20 minutes. Make this rice dressing dish for your next holiday gathering.  With Thanksgiving just around the corner, this will make an awesome stress-free dish, and I guarantee your non-vegetarian guests will love it.
WHAT TO SERVE WITH RICE DRESSING
Rice dressing is typically served as a side dish and goes great with just about any protein (turkey, chicken, beef, pork and some seafood).  It's a dish that's always included in our Holiday Feasts and that everyone loves. If you're not into stuffing or regular dressing like me, rice dressing is a great alternative.
While you're planning your holiday menu, do yourself a favor and include delicious and simple side dishes to accompany your main course.  Remember that just because you're hosting, doesn't mean slaving over a stove.  You're entitled to enjoy in the festivities with family and friends without feeling bogged down or stressed.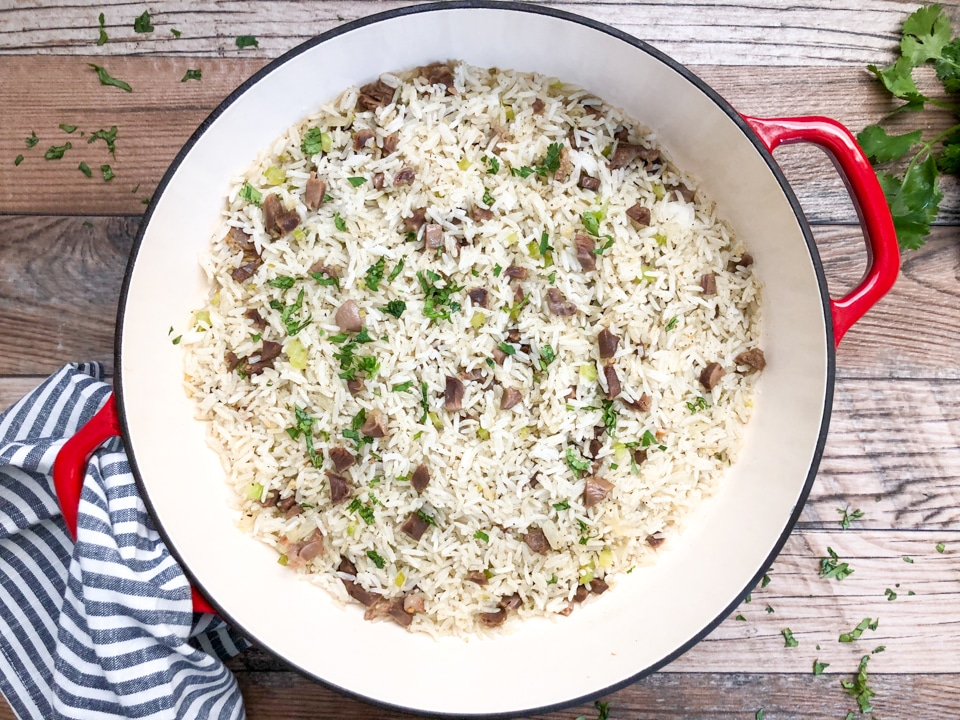 HOW TO REHEAT RICE DRESSING
Although you can easily reheat rice dressing in the microwave, use this tip instead if you're not a fan of microwave like me:
TIP: If you do not mind using foil paper, tear off enough foil paper to wrap your rice but before adding your rice to the foil, spray the foil lightly with cooking spray to prevent the rice from sticking.
Here are a few other side dishes to go along with your next holiday gathering (CLICK LINKS BELOW):
Oven Roasted Broccolette Recipe
and for dessert this Old Fashioned Peach Cobbler IS A MUST, and I cannot forget about this awesome Vanilla Pudding Recipe.
Hey, let's be friends.  Let's connect on Instagram and Pinterest. Click the links to the left to follow.
Thanks for visiting.
Rice Dressing
Rice dressing also known as dirty rice is one of the best holiday rice dishes. Although simple to make and just a few ingredients, this savory dish is packed with awesome flavor.
Print Recipe
Pin Recipe
Ingredients
Chicken Gizzards
1

cup

chicken gizzards

chopped with some chicken hearts

3

tsp

kosher salt

adjust to taste

1-1/4

tsp

poultry seasoning

1/2

cup

onion

chopped

1

celery stalk

1

clove

fresh minced garlic

1/4

cup

water
Rice Cooker
3

cups

white long grain rice

Jasmine Thai long grain rice or any white rice

2-1/2

cups

water

2

tsp

kosher salt

2

tsp

grapeseed oil

extra virgin olive oil
Instructions
Chop onion, celery, garlic and (bell pepper if using). Set aside.
Rice Cooker Method
Stream rice in a rice cooker (as I did), instant pot or stove-top (follow the instructions on the packaging for which ever method your using.

Place a sieve over the rice cooker insert. Using the measuring cup that comes with the rice cooker, measure out 3 cups of rice and add it to the sieve. Remove the sieve from the rice cooker insert and run under water to clean the rice. After rice is cleaned, Pour the rice into the rice cooker insert. Add water, salt, and grapeseed oil. Place lid on rice rice cooker, plug the cord into the outlet and press the cook button (it will light up). When rice is done, the cook button will turn off AND the warm button will light up. This is for the rice cooker that I use.
Chicken Gizzards
In a medium sized pot, fill it half way with water and place over medium to high heat. Wash chicken gizzards and chicken hearts (if you have hearts) and add to pot of water. Boil chicken parts for 30 minutes or until tender. Drain and allow to cool until you are able to handle them without them being too hot. Chop the gizzards and hearts into small bits. Set aside.

Add grapeseed or extra virgin olive oil to a skillet over medium to high heat. Add vegetables except garlic and saute until onions are translucent about 30 seconds. Add garlic and continue to saute until fragrant. Add chicken gizzards/hearts, kosher salt and poultry seasoning and give a stir. Add rice and gently stir until all ingredients are combined. Taste and adjust seasoning by adding more kosher salt and/or poultry seasoning. Add chicken broth or water for moisture. Give another gentle stir. That's it.

Garnish with sliced green onions, parsley or cilantro.
Notes
**Please note: Nutritional values serve as a guide only as values may vary.
Nutrition
Calories:
355.85
kcal
|
Carbohydrates:
75.44
g
|
Protein:
6.79
g
|
Fat:
1.97
g
|
Saturated Fat:
0.3
g
|
Sodium:
1946.31
mg
|
Potassium:
125.84
mg
|
Fiber:
1.43
g
|
Sugar:
0.7
g
|
Vitamin C:
1.14
mg
|
Calcium:
28.97
mg
|
Iron:
0.74
mg