I'm sharing a delightful dish that's perfect for breakfast or brunch. It's no surprise that breakfast is the most important meal of the day. It jump starts your metabolism, provides energy, and increases your attention span to get you through the morning. If you're one of those people who tend to skip breakfast,please make sure this morning was your last. Make it a point to grab something small even if its a container of Greek yogurt, a wholesome cereal, or even a classic oatmeal from Starbucks. When I'm in a rush, I'll stop by Starbucks and order classic oatmeal or you can opt for a smoothy full of fresh fruit and veggies. These are just a couple of ideas to get you thinking about breakfast options. Today, my friends, I can't resist not sharing my Baked Pancake Casserole. Yes, a baked pancake. Just envision a pancake that's moist and tender but in cake form.
How to Make a Baked Pancake Casserole
This Baked Pancake Casserole is super easy to make and can be made from scratch or with store bought pancake mix. If you're using store bought pancake mix follow the instructions on the box; however, you may need to double the ingredients to accommodate your skillet or ovenproof pan. I make mine from scratch using simple ingredients that you most likely already have in your pantry.
Dry Ingredients: Aside from the baking powder, baking soda, salt, and sugar. The flour is the most important element to any pancake mix, and my flour of choice is either white wholewheat flour from Trader Joe's or King Arthur unbleached all purpose flour (whichever I have on hand).
Wet Ingredients: I use brown whole eggs and either almond milk or nonfat, 1% or 2% milk (whichever I have on hand).
Note: I use brown sugar instead of white for its moist texture.
Pan: This recipe will accommodate a 10" (in diameter) ovenproof pan or skillet.
Toppings: Top with fresh strawberries and a dollop of homemade whipped cream or store bought is perfectly fine. When buying whipped cream, look for one that doesn't contain high fructose corn syrup. In fact, that sounds like dessert... strawberry shortcake.
You can also slice it up and top with nuts with a drizzle of pure maple syrup or agave, so simply top with a teaspoon of softened butter and drizzle of syrup of your choice.
This Baked Pancake Casserole is a great make-ahead breakfast. You can store it in an airtight resealable plastic bag and place on the counter or in the fridge for the next morning. It's really that simple. So, step up your pancake game with this yummy Baked Pancake Casserole.
If you're looking for other healthy breakfast ideas, check out my Healthy Pumpkin Walnut Bread or my Healthier Banana Bread.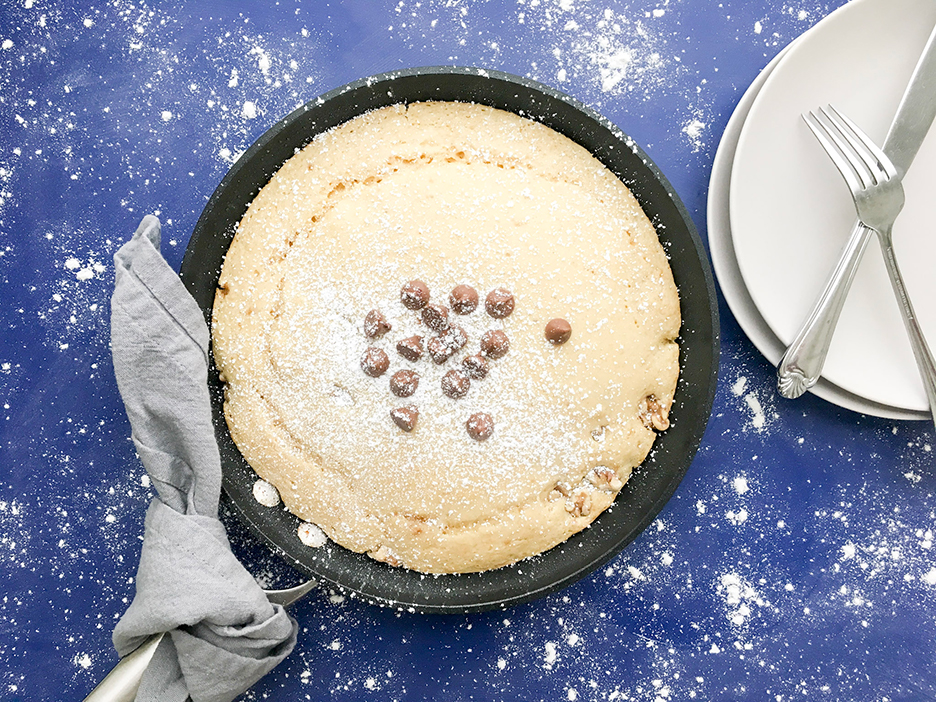 Baked Pancake Casserole
Baked Pancake Casserole - Step up your pancake game with this delightful and easy recipe. It's versatile & can be served for breakfast, brunch or dessert.
Print Recipe
Pin Recipe
Ingredients
2

cups

unbleached all purpose flour

½

teaspoon

baking soda

½

teaspoon

salt

½

tablespoon

baking powder

3

tablespoon

brown sugar

1-½

cup

milk

(almond milk, 1%, 2% or nonfat)

1

teaspoon

vanilla extract

add-ins

(optional)

toppings

(optional)
Instructions
Preheat oven to 350 degrees.


Season ovenproof pan or skillet with cooking spray.


Place sifter inside a mixing bowl and add flour, baking powder, baking soda, sugar and salt and sift dry ingredients into mixing bowl and whisk until dry ingredients are combined. Create a well in the center of the dry ingredients and add an egg. Using the whisk, break the egg yolk. Add vanilla extract. Add milk whisking along the way. Try not to overwork the batter. Fold in any add-ins (i.e. nuts, chocolate chips)


Pour batter into prepared ovenproof pan or skillet.


Place in oven and bake for approximately 10-12 minutes for until toothpick comes out clean around. Do not over-bake.


Remove from oven and let the bake pancake cool on a cooling rack for approximately 3-4 minutes.


Add topping - OPTIONAL

Notes
Nutrition Facts do not include add-ins or toppings
**Please note: Nutritional values serve as a guide only as values may vary.
Nutrition
Calories:
202
kcal
|
Carbohydrates:
39.6
g
|
Protein:
6.3
g
|
Fat:
1.6
g
|
Saturated Fat:
0.8
g
|
Polyunsaturated Fat:
0.2
g
|
Monounsaturated Fat:
0.4
g
|
Trans Fat:
0.1
g
|
Cholesterol:
4.9
mg
|
Sodium:
420.3
mg
|
Fiber:
1.1
g
|
Sugar:
7.7
g
|
Vitamin A:
200
IU